We've barely mentioned pierogies on this blog. Back in 2010, they were on my recap post of a food tour I took in NYC. I love them. If you're not familiar with pierogies, they are a carb-lovers dream. Pillows of dough filled with mashed potatoes. I like to slather mine in sour cream and onions. As I flipped through my Food Network magazine, I had eyes for this Pierogi, Sausage & Squash Stew. I added sausage to the title because it's such a huge part of this dish. So much going on in this recipe and it makes four huge servings. I like the word "huge" when it refers to a serving size and I'm counting calories.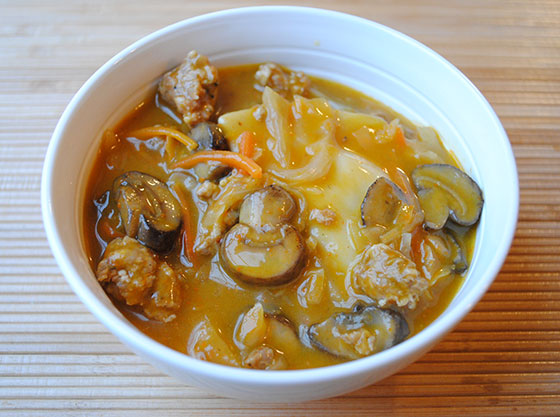 So, how's it taste?
I was iffy about it because the ingredients have the potential to be too weird together to be good. Especially when you add the cabbage. It stinks! Seriously stinks! Luckily the smell is no where near the flavor. I had to alter the recipe a bit and used pork sausage instead of turkey. That worked out really well, so I highly suggest making that substitution. I also couldn't find pre-cut butternut squash either fresh or frozen and I wasn't about to cut one myself, so I substituted frozen, pureed butternut squash. I really toiled over that decision at the grocery store, but again, I think it worked out better than if I had used cubed. It makes the stew really thick and comforting. There's enough chunks it it with the mushrooms, sausage, and the pierogies, so I liked not having yet another chunk of something.
The flavor was incredible. I'll repeat that. Incredible! I was surprised at how much I loved it. It was hearty and comforting and had so many textures. The cabbage stays a bit crunchy, then all the chunks of mushrooms and sausage, and oh those pierogies! A dollop of sour cream makes it so rich. I started using a bit of prepared horseradish in this soup and now I try it in others all the time. It works fantastic in this stew. It gives just a bit of kick and yet another layer of awesomeness.
I would suggest cooking the pierogies separately as you need them for a serving. While I really enjoyed the leftovers, the pierogies got a bit soggy the longer they were in the stew. If you're using full size pierogies, I also suggest cutting them in thirds. It makes for much easier eating.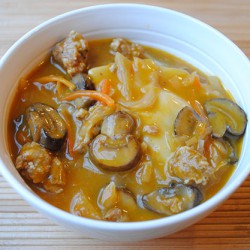 Pierogi, Sausage & Squash Stew
adapted from Food Network Magazine
makes 4 servings
per serving: 388 calories, 13g fat, 46g carbs, 4g fiber, 24g protein
Ingredients:
2 tsp. olive oil
8 oz. Italian turkey or pork sausage, casings removed
1 tbsp. tomato paste
1 lb. cremini mushrooms, sliced
2 tbsp. all-purpose flour
2 cups low-sodium chicken broth
3 cups shredded coleslaw mix or shredded cabbage
10 oz. box frozen butternut squash, thawed
1 (12 oz.) package cheddar and potato pierogies
Kosher salt
1/3 cup sour cream
Freshly ground pepper
Horseradish, prepared, optional
Directions:
1. Heat olive oil in a Dutch oven over medium heat; add sausage and cook, breaking it up with a wooden spoon, until browned, about 5 minutes. Add tomato paste and cook, stirring, 30 seconds. Add mushrooms and stir well to coat. Increase heat to medium high, cover and cook, stirring occasionally, until the mushrooms are tender, about 5 minutes. Add flour and cook, stirring, 1 minute, then stir in chicken broth and 2 cups water, scraping up any browned bits from the bottom of the pot.
2. Add coleslaw mix, cover and bring to a simmer. Reduce the heat to medium and cook until the cabbage is wilted, about 3 minutes. Add the squash and pierogies* and simmer, uncovered, until the pierogies are cooked through, 5 to 7 minutes. Season with salt. Divide among bowls and top with the sour cream, and pepper to taste. Add horseradish for a spicy kick.
*Note: I would suggest cooking the pierogies separately and adding them as you need them for each serving. The leftovers tasted great, but the pierogies did get a bit soggy the longer they were in the stew. So if you're not going to eat the entire recipe in one sitting, cook as many pierogies as you need per serving. It's also good to cut them into thirds to make eating the stew easier.