Look at that soup. Almost looks fake, doesn't it? Like I poured a bit of paint into a bowl. I assure you it's not paint, it's Spiced Apple Butternut Soup. And it's ah-may-zing. It's so creamy, velvety smooth with delicate flavors. I feel a little bit fancy eating it.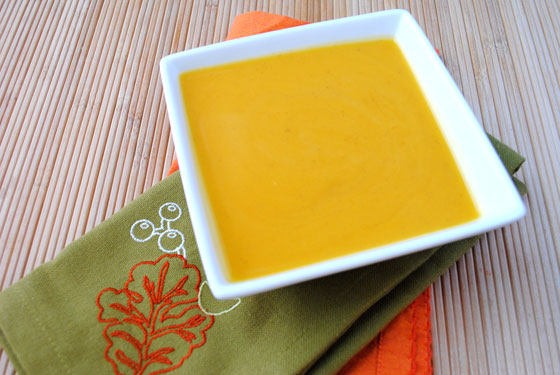 So, how's it taste?
One of the best parts about this time of year is getting out the slow cooker. I'm a sucker for it. I love prepping everything in the morning, putting that baby on low, and having my whole house slowly start to smell fantastic. It's a teaser all day long to smell delicious food and not be able to eat it for a few hours. This soup is so unusual with it's flavors, that I had to try it. Butternut squash, apples, cinnamon, nutmeg, ginger. It's begging to be made during the Fall. The butternut is slightly sweet and earthy, but the apples help to brighten it up and add just one more note of sweet to make it perfect. The spices may seem too much for this type of soup, but they are very subtle in the background. Although this soup is creamy and a touch decadent from the whipping cream, it still tastes like you're eating a really light soup. It's not rich at all. And bonus, it actually is light. One cup is a measly 160 calories, so I bump up my serving to 1 1/2 cups and eat it with bread (great for dipping!) to make a meal.
I'm not going to sugar coat the prep for you though. It is a major pain in the butt to peel and cube butternut squash. I've done it three times in my lifetime and I bitch and moan the whole time. I finally got a Y peeler to make the job a little easier, but it's still no walk in the park. If you've got any tips, feel free to share! I suggest tackling the butternut squash first, then peeling the apples seems like a breeze. I would also recommend getting an immersion blender if you don't  have one. I love mine. It's great for blending in your slow cooker (like this recipe or my cauliflower soup recipe) and it makes milkshakes easily, too!
To make this dish vegetarian, use vegetable broth instead of chicken. I recommend using regular broth instead of low sodium. I made mine with low sodium chicken broth and ended up adding what felt like a boatload of salt to the final product. I also added some freshly ground black pepper to taste. The leftovers freeze well and this soup tastes just as delicious cold, too!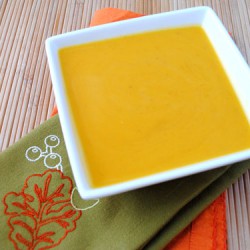 Yield: 8 (1 cup) servings
Spiced Apple Butternut Soup
Ingredients:
8 cups cubed peeled butternut squash (about 3 lbs.)
2 large apples, peeled, chopped (about 3 cups)
1/4 cup finely chopped onion
1 carton (32 oz.) chicken or vegetable broth (4 cups)
1 cup apple juice
1/2 tsp. salt
1/2 tsp. ground cinnamon
1/4 tsp. ground nutmeg
1/4 tsp. ground ginger
1/2 cup whipping cream
Directions:
1. Spray 4- to 5-quart slow cooker with cooking spray. In cooker, mix all ingredients except whipping cream.
2 Cover; cook on Low heat setting 8 to 10 hours.
3 Blend soup in cooker with immersion blender, or blend soup in batches in blender container on low speed and return to cooker. Stir in whipping cream.
per serving: 160 calories, 5g fat, 27g carbs, 3g fiber, 3g protein