I made this Tuscan White Bean Soup a few weeks back when Nashville got a break from the hot weather and had a few days of cool. Now that we're having another few days of cooler temperatures, I thought I'd introduce you to it. It's creamy, rich, and has bacon! To top the soup, garlic, red pepper flakes, and basil are cooked in olive oil. These four ingredients bring the wow factor. I didn't mind when the weather got hot again and a bowl of this soup was my dinner.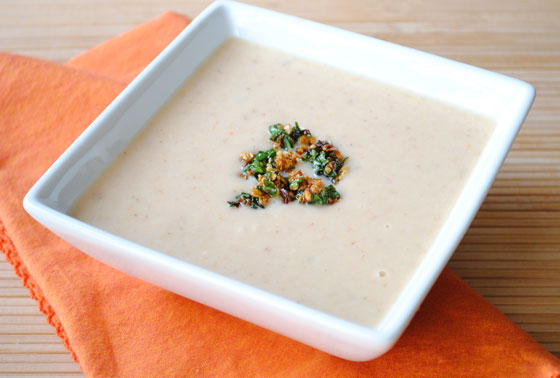 So, how's it taste?
It's fantastic! The bacon adds so much flavor, along with onion and carrots (I left out the celery). What surprised me was how rich and creamy the soup was without adding any cream or any dairy. The cannellini beans do it all. I could taste a subtle hint of the white wine, too. I was short on time when I made the soup, so I skipped the topping and made it the next day. Without the topping, the soup is pretty tasty. So much so, that I almost didn't bother with the topping. But out of curiosity and an abundance of basil, I made it and whoa! I couldn't believe how much it changed the soup…for the better. A little heat from the red pepper flakes and intense garlic and basil from cooking in the olive oil. Definitely do not skip the topping! I'll be making this soup again, and I may not wait for cooler weather next time!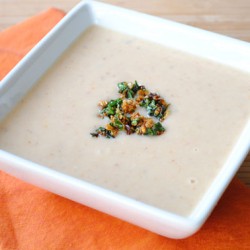 Tuscan White Bean Soup
by Michael Chiarello for Progresso
makes 6 (1 cup) servings
per serving: 390 calories, 8g fat, 55g carbs, 13g fiber, 24g protein
Ingredients:
4 slices bacon, finely chopped
1 medium yellow onion, quartered lengthwise
1 medium stalk celery, quartered crosswise
1 medium carrot, quartered crosswise
2 cloves garlic, lightly crushed
3 cans (19 oz. each) cannellini beans, drained
1 dried bay leaf
1/2 cup white wine
1 carton (32 oz.) reduced-sodium chicken broth (4 cups)
2 tbsp. olive oil
1 tbsp. finely chopped garlic
1/4 to 1/2 tsp. crushed red pepper flakes
1/4 cup lightly packed fresh basil leaves, sliced
1/2 tsp. sea salt
1/8 tsp. freshly ground pepper
Directions:
1. In 4-quart Dutch oven, cook bacon, onion, celery, carrot, and 2 cloves garlic over medium-high heat 5 minutes, stirring occasionally. Reduce heat to medium. Add beans, bay leaf, wine, and broth; cover and cook 20 to 25 minutes, stirring occasionally, until vegetables are tender. Remove from heat; cool about 15 minutes.
2. Meanwhile, in 8-inch skillet, heat olive oil over medium-high heat 1 minute. Add 1 tablespoon chopped garlic; cook 3 to 5 minutes, stirring frequently, until garlic begins to brown. Stir in red pepper flakes; cook a few seconds. Stir in basil; cook until basil wilts.
3. Remove bay leaf from bean mixture. Puree mixture with an immersion blender directly in the Dutch oven. Stir in salt and pepper. Simmer over medium heat 5 to 10 minutes, stirring frequently, until thoroughly heated.
4. Ladle soup into individual soup bowls. Top each with basil mixture.