Quesadillas are one of those foods that I love, but rarely make at home. Why? Because I stink at getting them restaurant crispy. The skillet method never worked for me. They'd get a little brown or my pan wouldn't be hot enough and they'd soak up all the oil or butter…and no one wants a soggy quesadilla. Enter Crispy Vegetable Quesadillas and my life has been changed forever. They are seriously crispy and it's one of those "d'oh, why didn't I think of that" moments. Use your broiler! Also, there's quinoa inside and it works. Quinoa…in a quesadilla.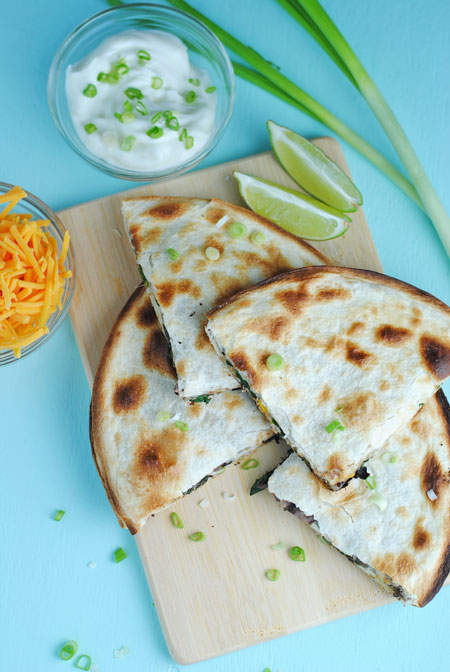 So, how's it taste?
I couldn't wait to eat these for dinner. I had quesadillas for dinner four nights in a row and it was magnificent. Once you mix your bean mixture, then your spinach mixture, it takes no time to assemble and get them on the table. Store each mixture separately and the leftovers are just as good and easy as the first time you make them.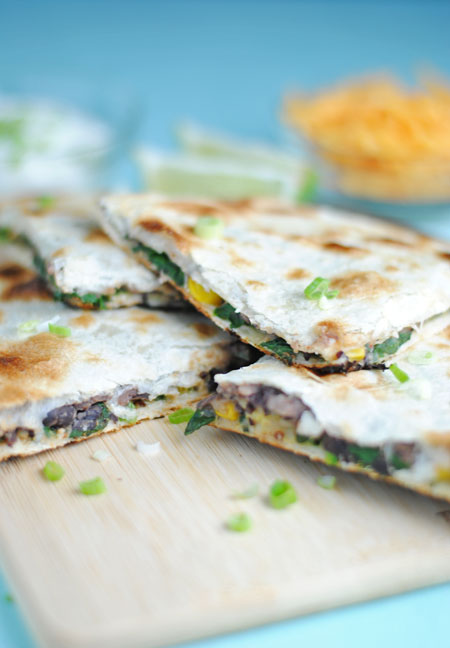 They're cooked under the broiler and that takes minutes. Watch it carefully or they'll get too toasty! I can't believe I never thought to crisp a quesadilla under the broiler. It's a little tricky with the flipping, but pressing the tortillas together with the mixture inside kind of "glues" them together. Broil these beauties with aluminum foil over your pan and clean up is a breeze!
I never thought I'd chow down on a quesadilla with quinoa, but let me tell you I almost prefer these over the ones you get in restaurants. You just can't beat veggies, beans, and cheese all melted together!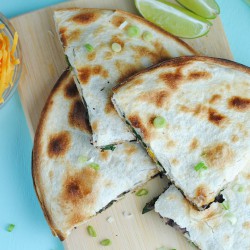 Yield: 6 servings
Total Time: 21 minutes
Crispy Vegetable Quesadillas
Ingredients:
1 tsp. canola oil
1 cup coarsely chopped poblano chile
1/2 cup frozen whole-kernel corn
3/4 cup precooked quinoa and brown rice (I only used quinoa)
1/4 tsp. salt
5 oz. fresh spinach (I used 6 oz. baby spinach, chopped)
3/4 cup shredded sharp cheddar cheese
1 cup canned unsalted black beans, rinsed and drained
2 tsp. Mexican hot sauce (I used Sriracha)
8 (6-inch) flour tortillas
Cooking spray
6 tbsp. light sour cream
6 lime wedges
Directions:
1. Place oven rack in middle of oven. Preheat broiler to high. Place a baking sheet on rack in oven (keep pan in oven as it preheats).
2. Heat a large skillet over medium-high heat. Add oil to pan; swirl to coat. Add poblano and corn; cook 5 minutes, stirring once. Add quinoa, salt, and spinach; sauté 2 minutes or until spinach wilts. Remove from heat; stir in cheese.
3. Combine beans and hot sauce in a small bowl; mash with fork until smooth. Spread 2 1/2 tablespoons bean mixture on each of 4 tortillas; top each with 1/2 cup spinach mixture and 1 tortilla. Lightly coat quesadillas with cooking spray. Arrange quesadillas on preheated pan in oven; broil 3 minutes or until lightly browned, turning once.
4. Cut each quesadilla into 6 wedges. Serve with sour cream and lime. (I cut each quesadilla into 4 wedges and a serving for me is those 4 larger-sized wedges, so this recipe would make 4 servings this way, not 6.)
per serving (4 quesadilla wedges, 1 lime wedge, and 1 tablespoon sour cream): 300 calories, 10.4g fat, 12g protein, 41g carbs, 6g fiber