Another success in the kitchen with a lower calorie option! I was thrilled these French Onion & Mushroom Turkey Burgers turned out so tasty! I didn't have to do much tweaking from the original recipe, except for leaving out that disgusting celery. But if celery floats your boat, by all means keep it in for more flavor.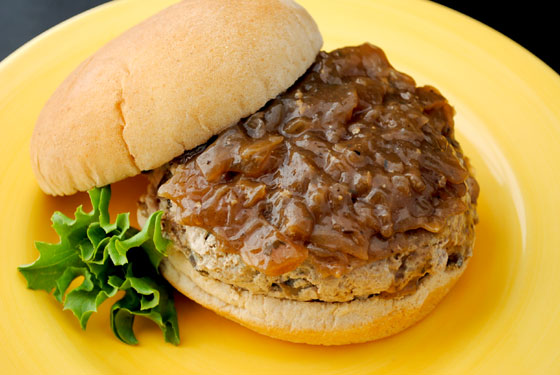 So, how's it taste?
I hate to admit I expected these burgers to be on the bland side. The ingredients are so simple I thought it couldn't possibly be a satisfying alternative to a big, juicy burger. I was so wrong! I did add a bit of seasoning salt to my turkey patties to help them along. I loved the chunks of cooked mushrooms right in the patty. It made it a bit difficult to shape and stay together, but I managed. Topping the burgers in the skillet with French Onion soup is pure genius. All that yummy, savory onion flavor really gets in the burger. The directions mention cooking the soup until it gets thicker, but it never did for me. There's nothing in it to make it thicken.
This recipe makes four huge burgers out of one pound of turkey. The next time I make these, I'd like to make six to get a slightly smaller patty. I also think a slice of melted Provolone would be phenomenal on top! These burgers will definitely stay in my recipe box, even when I'm not watching the calories so much.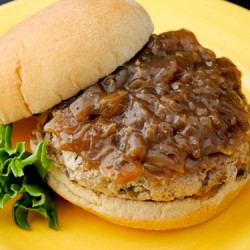 French Onion & Mushroom Turkey Burgers
Ingredients:
8 oz. sliced white button mushrooms
2 celery stalks, finely chopped
1 garlic clove, minced
1 egg, lightly beaten
1/2 tsp. poultry seasoning
1/4 tsp. freshly ground black pepper
1 lb. 95% lean ground turkey
1 can condensed French onion soup
4 whole-wheat hamburger buns
Directions:
1. Coat a large skillet with fat-free cooking spray and heat over medium heat. Add the mushrooms, celery, and garlic. Cook until the mushrooms are tender, about 4 minutes. Remove from the heat and let cool.
2. Meanwhile, in a large bowl, stir together the egg, poultry seasoning, and black pepper. Stir in the mushroom mixture.
3. Using your hands, mix in the turkey, handling the meat as little as possible. Shape into 4 patties.
4. Add the patties to the skillet used to cook the mushrooms. Cook over medium heat until just slightly pink in the center, about 5 minutes per side. Drain off any excess fat.
5. Pour the soup over the burgers in the skillet. Bring to a boil. Reduce the heat to low, cover, and simmer for 5 minutes. Remove the burgers and cook the remaining soup in the skillet until thickened. Serve the sauce over the burgers on the buns.