I have never, ever, tried tofu. Never really had a reason to. I'm a meat-eater, and tofu was just kind of venturing too far into unknown territory. But I will try any food at least once, and since I'm still on my only-vegetarian-meals-at-home kick, it was time to give tofu a chance. Thumbing through my Better Croker magazine I found Stir-Fry Broccoli and Carrots. At about 70 calories per serving, it needed something more substantial to make this a meal. Aha! I'd found my first dish to toss in some tofu!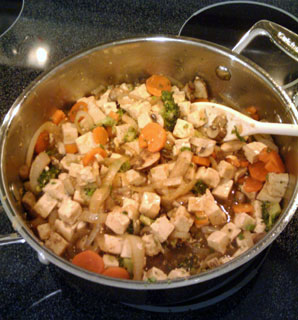 So, how's it taste?
Very surprisingly good! I selected a firm tofu, cut it into cubes, and mixed in the entire amount. Which was too much. I should have used only half the package, but who knew? I think the real key to this recipe was the oyster sauce. It gave it that real stir-fry taste. You could substitute soy sauce, but it wouldn't have been the same. The tofu really soaked up the flavors and the texture wasn't as odd as I was expecting. I really liked how tender the vegetables were in this dish. Not too mushy, but not too crunchy. I used baby bella mushrooms that really added a nice flavor. I also used vegetable broth instead of chicken broth to make the dish vegetarian. To round out this meal, I served my stir-fry over brown rice. I have read that freezing tofu changes the texture to make it more firm. I've frozen this dish and we'll see how the leftovers turn out. All in all I was really happy it tasted so good with the tofu and now I have a healthy protein to add to many new dishes!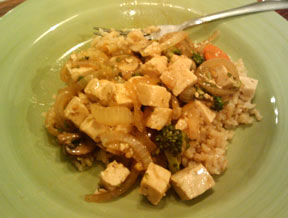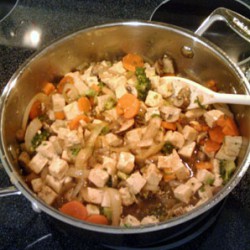 Stir-Fry Broccoli and Carrots with Tofu
Ingredients:
2 teaspoons finely chopped gingerroot
1 clove garlic, finely chopped
1 1/2 cups small broccoli flowerets
2 medium carrots, thinly sliced (1 cup)
1 small onion, sliced and separated into rings
3/4 cup chicken broth (from 32-ounce carton)
1/4 teaspoon salt
1 tablespoon cornstarch
1 tablespoon cold water
1 cup sliced mushrooms (about 3 ounces)
2 tablespoons oyster sauce
Directions:
1. Spray wok or 12-inch skillet with cooking spray; heat over medium-high heat. Add gingerroot and garlic; stir-fry about 1 minute or until light brown. Add broccoli, carrots and onion; stir-fry 1 minute.
2. Stir in broth and salt; cover and cook about 3 minutes or until carrots are crisp-tender. Mix cornstarch and cold water; stir into vegetable mixture. Cook and stir about 10 seconds or until thickened.
3. Add remaining ingredients; cook and stir 30 seconds.