A few weeks back on a trip to the Nashville Farmers' Market, I discovered Pickled Summer Squash. At a demonstration table was a jar of pickled veggies and I glanced at them and assumed it was well, pickles. I like pickles, but it didn't strike me as something I wanted to taste. I saw one lady eat one and just rave about them and found it was zucchini and squash! Huh? So I dipped in a toothpick and had a taste for myself. I am a huge fan of squash (not of zucchini, makes zero sense, I know) and it would never cross my mind to pickle them, so this was a treat. Having never pickled (or canned) anything, I thought this would be a good beginner's recipe to try.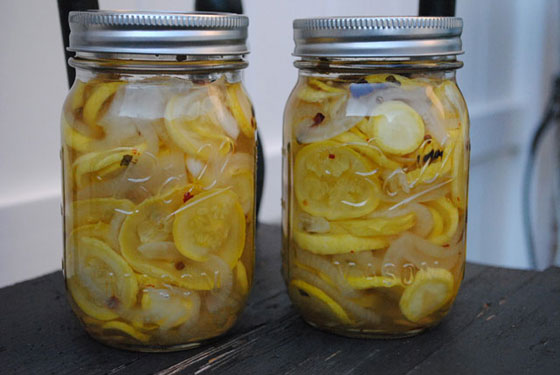 So, how's it taste?
The pickled squash was fantastic. Squash is kind of bland itself, so it picked up the pickling spice flavors very well. Crunchy, tangy, and sweet with a hint of spice. I just loved them. I only used squash in my recipe, but a variety would work the same. It was a lot like eating pickles. I just grabbed some out of the fridge and started snacking!
This recipe is super easy. I didn't go through the whole canning, water bath process because I knew I wouldn't be storing them long-term. The jars sealed themselves during the cooling process after I poured in the hot liquid, but it will only last two weeks unless you do the full canning process. I started with a big pot and layered the squash and onions with Kosher salt.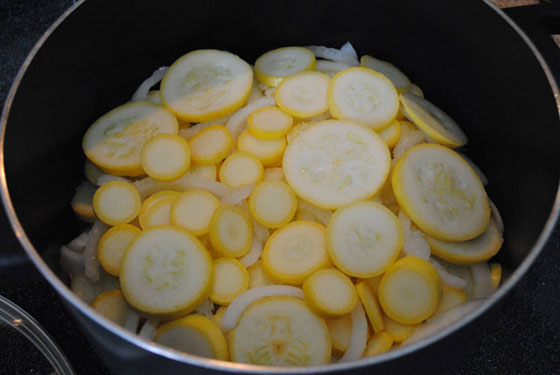 After an hour, the veggies are reduced and the pickling liquid can be prepared. Put all the ingredients together and add the squash and onions. The smell throughout my house was so intoxicating. I couldn't wait until they were ready to sample!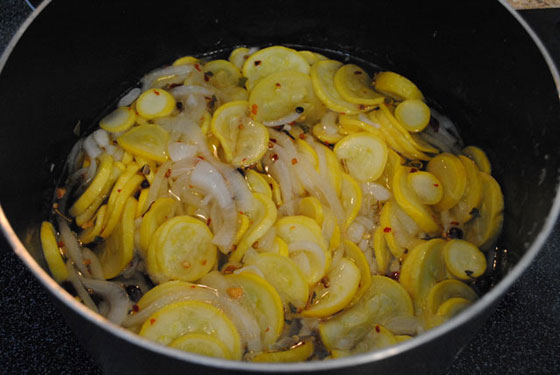 Mine turned out pretty well, although I discovered you should either rinse the veggies before adding to the pickling liquid or don't use so much salt. The original recipe calls for "generous" amounts of salt, but mine were way too salty. I had to rinse them and lose my pickling liquid before serving them. Thankfully that saved the day! I had a lot of fun making this recipe and can't wait to get into more canning.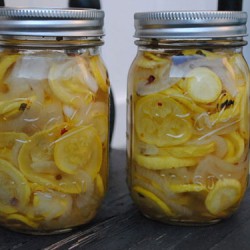 Pickled Summer Squash
Ingredients:
10 cups sliced squash (zucchini, yellow summer)
2 cups sliced onions
Kosher salt
2 cups white vinegar
3 cups sugar
1 1/2 tbsp. pickling spice
1/2 tsp. crushed red pepper, optional
Directions:
1. In a large pot or bowl, layer sliced squash and sliced onions. Sprinkle each layer generously with Kosher salt. Let sit for 1 hour. Drain and rinse well.
2. In a large non-reactive pot, combine vinegar, sugar, pickling spice, and red pepper and bring to a boil. Add squash and onions and return to a boil.
3. Divide vegetables between sterilized jars and ladle enough pickling liquid over vegetables to come within 1/2 inch from top of jar. Wipe rims of jars clean, cover with lids, and screw tops in place. Process jars in hot water bath for 10 minutes. Remove from bath and cool. Jars should seal as they cool. Any jars that do not seal should be refrigerated and consumed within 2 weeks.