This is simplest dip to make…which is quite dangerous. I find this Cheddar Ranch Cheese Spread extremely addicting. I may have eaten it with crackers for four meals in a row. Yeah, you read that right. I had this for dinner, breakfast, lunch, and dinner again not too long ago and I'm not afraid to admit it. It's not the healthiest moment in my life, but sometimes you have a crappy day at work and all that will fix it is a good snack attack…on the couch…watching TV. Mine just happened to last for a 24 hour period. Hey, it was a really obnoxious day at work! Don't judge!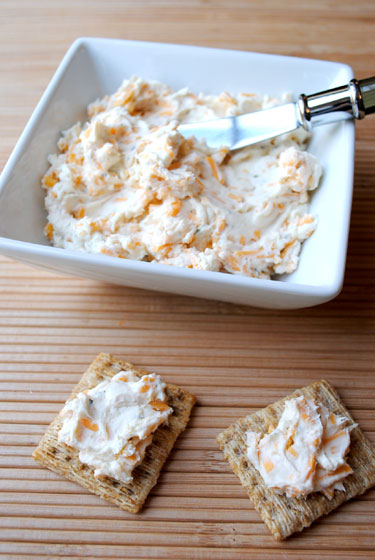 So, how's it taste?
Obviously I love this stuff. I highly recommend serving it with Triscuits. The creamy cheese spread with crunchy Triscuits is fantastic. I prefer the ranch flavor, but you can also make this with Italian dressing mix. Equally as good and equally as addicting. It's four ingredients, mix them together, and go. This could also be rolled into a cheeseball and covered with nuts if you want to get fancy. You can make this with low fat cream cheese and sour cream, but why bother? Serious snacking deserves the real stuff. Don't even think about making this with fat free ingredients. It's not the same taste at all.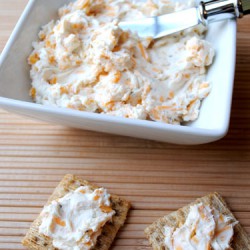 Cheddar Ranch Cheese Spread
source unknown
makes 1 1/2 cups
Ingredients:
1 (8 oz.) package cream cheese (do not use fat free), softened
1/2 cup sour cream (do not use fat free)
1 (0.7 oz.) packet ranch* or Italian dressing mix
1 cup shredded sharp cheddar cheese
*If you can't find this size packet for ranch, get the 1 oz. size and take a few teaspoons out. Add the mix in increments and taste until you get it to your liking.
Directions:
1. Beat cream cheese until fluffy. Add sour cream and dressing mix until blended. Stir in cheese. Chill 2 hours. Serve with crackers.