These are my favorite dinner rolls…ever. My mom started making them years ago and I am addicted to them. They are great with any meal, or as the bread for a sandwich (try Mom's Egg Salad), or just by themselves. The dough is made in a bread machine, so it does most of the work for you. Once the dough is ready, divide it into pieces, let rise, and bake. It's that simple! You can also add herbs to the dough for flavor variations.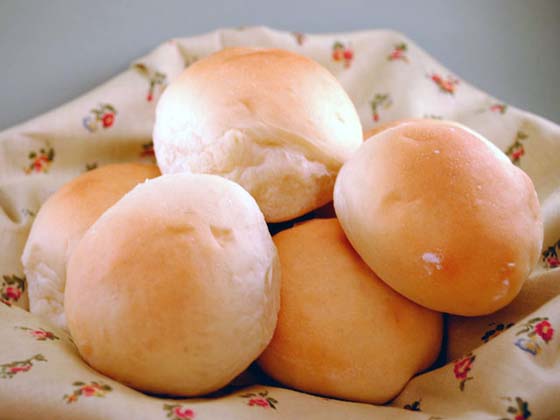 So, how's it taste?
Light, fluffy, and so delicate. They aren't the heavy rolls you'll find in some restaurants, but they look restaurant quality and taste so much better! You can splurge a bit and brush butter over the rolls when they're fresh out of the oven, but they don't need it. That's right, I just said butter isn't necessary…that's how good they are. Another great thing about the rolls is they freeze very well. I bake a batch, and pop them in the freezer. Take them out as you need and nuke for 10-15 seconds in the microwave. So much better than anything you'll buy pre-made in the store, and you can't beat the smell of bread baking in the oven.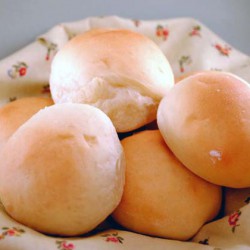 Bread Machine Dinner Rolls
Ingredients:
1 cup water
2 tbsp. butter, softened
1 egg
3 1/4 cups bread flour
1/4 cup sugar
1 tsp. salt
3 tsp. bread machine or active dry yeast
Directions:
1. Measure carefully, placing all ingredients in bread machine pan in the order recommended by the manufacturer. Select Dough/Manual cycle. Do not use delay cycle.
2. Remove dough from pan, using lightly floured hands. Cover and let rest 10 minutes on lightly floured surface.
3. Grease large cookie sheet with shortening (or use cooking spray). Divide dough into 15 equal pieces. Shape each piece into a ball. Place 2 inches apart on a cookie sheet. Cover and let rise in warm place 30 to 40 minutes or until double. Dough is ready if indentation remains when touched.
4. Heat oven to 375. Bake 12 to 15 minutes or until golden brown. Serve warm or cool on wire rack.