I love bread. In any form. I want all the carbs. This past weekend, I made beer bread, bought naan, and baked this amazing Savory Monkey Bread. I have no problem eating incredibly large amounts of bread and calling it dinner. This monkey bread in particular is really hard to stop eating, especially when you can choose from several different toppings. You have to taste them all, right?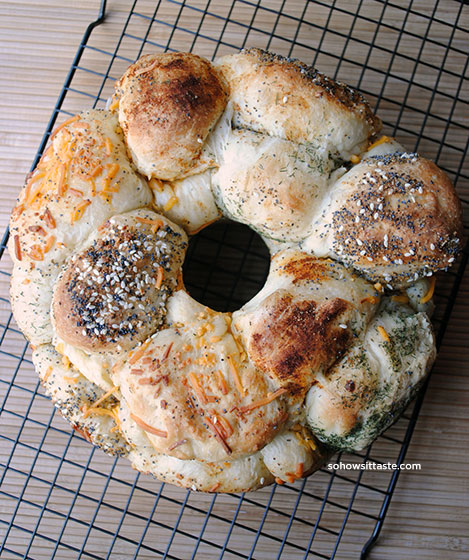 So, how's it taste?
Loved every bit of it. I can't wait to play around with more toppings! I featured a similar Herb Pull-Apart Bread from Thanksgiving 2011 and it was divine. This type of bread is so easy to create and so pretty on the table. Great for a holiday or just Tuesday night dinner! For this latest version, I used four different toppings. Dried dill, shredded cheddar, paprika, and the last was a combination of poppy seed, sesame seed, celery seed, and garlic pepper. I think the dill was my favorite with the combo topping coming in a close second. You could use any kind of herb or spice as a topping, even nuts!
For the bread in the picture, I followed Food Network's instructions of using olive oil and I think the butter version is much better, so I've adjusted their recipe to feature the butter. You can use an angel food cake tube pan or a fluted tube pan for this recipe. Enjoy!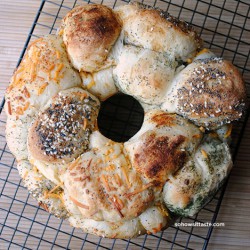 Savory Monkey Bread
Ingredients:
Rolls
24 balls frozen white dinner roll dough
3 tbsp. butter, melted
Toppings
dried dill
Cheddar cheese, shredded
paprika
sesame seed/poppy seed/celery seed/garlic pepper
Directions:
1. Spray a tube pan with cooking spray and arrange your toppings into separate bowls.
2. Brush butter over frozen dough balls and roll each ball into a topping. Arrange the dough balls in the pan. Drizzle with any leftover melted butter. Cover with plastic wrap and let stand in warm place about 4 hours or until double in size.
3. Bake at 350F until golden, about 25-35 minutes. Let cool in pan 10 minutes. Remove from pan and serve immediately. To freeze any leftovers, separate rolls and place in freezer bag in freezer.