This Cornbread & Sausage Stuffing was the surprise on the dinner table. There's not a whole lot to it and I found the recipe in an Eating Well cookbook, so I expected it to be good, but not as delicious as other stuffings. Even when I was mixing the ingredients (I did manage to mix together this and another dish before calling it quits in the kitchen on Turkey Day), I thought to myself "this is going to be so bland." Was I ever wrong!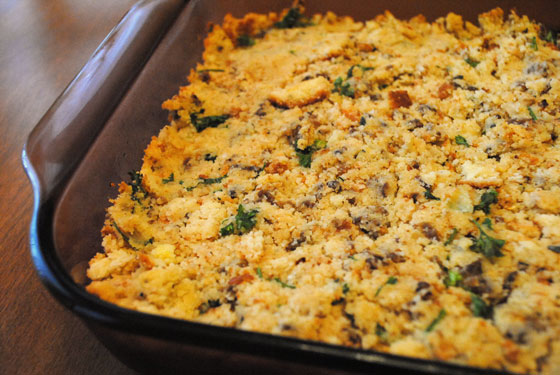 So, how's it taste?
You need to buy really tasty sausage for this dish as that's where the flavor comes from. The original recipe calls for turkey sausage to keep it on the healthy side, but we opted for pork sausage. We used Johnsonville mild ground Italian sausage so we didn't have to deal with removing the casings. A spicy sausage would taste fantastic, too. The recipe also calls for celery, but I don't eat that stuff so I left it out. I really liked using fresh parsley and sage in this as opposed to dried herbs.
I used 1 1/2 cups total of chicken broth, but I think it needed at least one more 1/2 cup. You don't want the stuffing too wet, but ours was a tad bit drier than I would have liked. Nothing that a few slices of cranberry sauce can't cure!
The sausage and herbs really shine in this dish. We couldn't believe it was so flavorful and somewhat healthy. Which just means we can have an extra slice of pie, of course.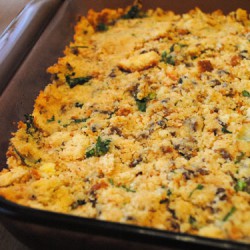 Cornbread & Sausage Stuffing
Eating Well
makes 12 servings
per serving: 242 calories, 8g fat, 34g carbs, 10g protein, 2g fiber
Ingredients:
1 lb. turkey (or pork) sausage,* casings removed (try spicy for a kick!)
2 cups finely chopped onion
1 1/2 cups finely chopped celery
1/4 tsp. salt
Freshly ground pepper, to taste
2 lbs. prepared cornbread, cut into 3/4-inch cubes (about 12 cups)
1/4 cup chopped fresh parsley
1 tbsp. chopped fresh sage
1 1/2 to 3 cups reduced-sodium chicken broth
*Nutrition information based on turkey sausage.
Directions:
1. Preheat oven to 325°F. Coat a 9-by-13-inch baking pan with cooking spray.
2. Cook sausage in a large nonstick skillet over medium-high heat, stirring and breaking up with a wooden spoon, until browned, about 10 minutes. Add onion and celery; cover, reduce heat and cook, stirring occasionally, until tender, about 10 minutes. Transfer the mixture to a large bowl. Season with salt and pepper. Add cornbread, parsley, and sage.
3. Bring broth to a simmer in a small saucepan. (I didn't bother heating mine, I skipped this step and it worked fine.) Pour 1 cup over the stuffing mixture and toss gently (the cornbread will break into smaller pieces). Add as much of the remaining broth as needed, 1/2 cup at a time, until the stuffing feels moist but not wet. Spoon the stuffing into the prepared pan and cover with foil. (I used about 2 cups of broth and it needed at least 1/2 cup more.)
4. Bake the stuffing until thoroughly heated, about 25 minutes. Serve warm.