A few weeks ago was the big game in college football. A few friends of mine got together to watch it and they were serving chili, so I wanted to bring something (besides drinks & Jell-O shots) that would go with chili. I instantly thought of cornbread. Plus, I was dying to use my new scone and cornbread pan. I needed an easy recipe that I could make the day before and yet still taste good the next night. Easy Cheese Cornbread Wedges did the trick! It couldn't be easier than doctoring a cornbread mix and the result was fantastic.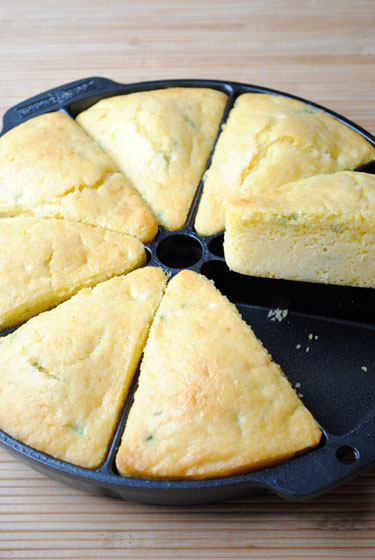 So, how's it taste?
Yes, I know it's a mix and from scratch would probably be just as easy, but go with it. I thought these cornbread wedges turned out pretty well. I like cornbread both ways, sweet and savory. Since I used a mix as the base, this cornbread was more on the sweet side, so if you aren't a fan of sweet cornbread, don't make these. I think they were a tad bit too sweet, but the addition of green onions and cheese helped tone it down. They were moist and I liked the hint of onion in each bite. It worked really well with the chili. I used Kerry Gold's Kilaree cheese instead of cheddar, so the cheese wasn't very prominent. I think a sharp cheddar would be excellent and help on the sweetness even more.
I loved using the scone & cornbread pan! It made perfect, individual wedges. If you don't have this pan, you could make the recipe in a cast iron skillet or try a muffin pan.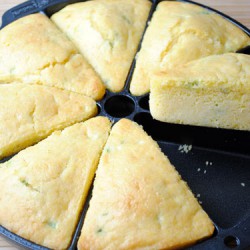 Easy Cheese Cornbread Wedges
Ingredients:
2 pouches (6.5 oz. each) cornbread & muffin mix (I used Betty Crocker)
2/3 cup milk
1/4 cup butter, melted
2 eggs
4 medium green onions, chopped (1/4 cup)
3/4 cup shredded cheddar
Directions:
1. Heat oven to 400°F. Grease a divided scone pan with shortening. Make muffin mixes as directed on pouch, using milk, butter, and eggs. Stir in onions and cheese. Spoon evenly into each wedge of pan.
2. Bake 15 to 17 minutes or until golden brown. Immediately remove from pan to cooling rack.