Now that warmer weather is slowly making its way to Nashville, I find myself in the mood for cold, sweet treats. Ice cream, smoothies, milkshakes, popsicles. You name it, it's in my freezer. I couldn't wait to make homemade popsicles. They are so fun and easy to make and I like being able to grab one out of the freezer whenever my sweet tooth flares up. What I like best about these Grape Popsicles is how pretty they are. A simple white popsicle with bursts of red from the sliced grapes. Kind of like the adult version of the purple stuff on a stick.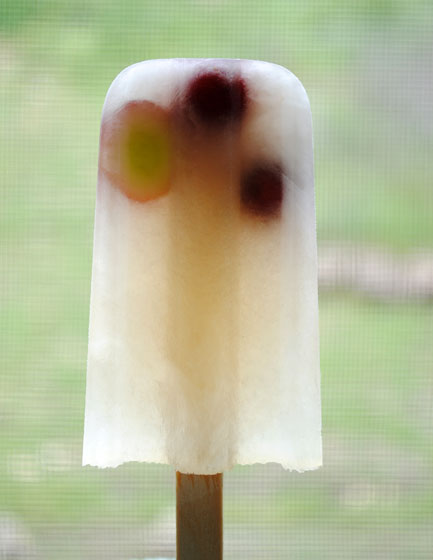 So, how's it taste?
It's pretty close to the purple version, but a tad bit sweeter. I opted to buy my white grape juice, but you could certainly make your own if you prefer. See the end of the directions below for instructions. I sliced my red grapes into thirds because they were so large. I love the contrast of the white popsicle with slices of red grapes. It's a cool effect to have the grapes suspended and turned differently throughout and each popsicle is different. You could add a lot more slices of grapes or experiment with different fruits, too. These are perfect for snacking on!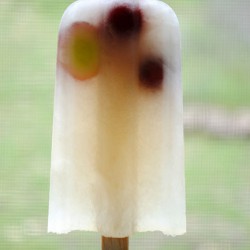 Grape Popsicles
Ingredients:
1 1/2 cups seedless red grapes, cut in half
4 1/2 cups white grape juice*
*Purchase this or make your own with instructions below.
Directions:
1. Divide the grape halves among the pop molds. Pour in the grape juice and insert the sticks. Freeze for at least 6 hours.
2. Remove from the freezer, let stand at room temperature for 5 minutes before removing the pops from the molds.
*For homemade grape juice: Wash four cups of white grapes (about 6 pounds) and discard any that aren't firm. In batches, with a potato masher, mash the grapes so that all of them are popped. Put them in a large pot and add 2 cups of water. Bring to a boil and cook over medium heat for 10 minutes, stirring and smashing the grapes occasionally. Remove from the heat and pour through a fine-mesh sieve or a colander lined with several layers of rinsed and squeezed cheesecloth. Add 1/2 cup sugar and stir until dissolved. Chill in refrigerator for at least 10 minutes before using the juice for popsicles.