This Strawberry Poke Cake is a classic summer dessert. Easy to make and very refreshing. No icing on this cake. Whipped topping makes the cake less heavy on those hot summer days. The flavor options for this are limitless. Try a variety of flavored gelatin to find your favorite version. When I make strawberry, I opt for using a strawberry cake mix in place of the traditional white.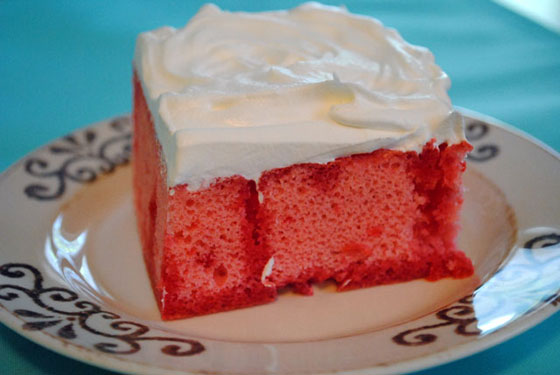 So, how's it taste?
Since it's a refrigerator cake, it's cool, light, refreshing, and bursting with strawberry flavor. Poking holes in the cooled cake is how it gets its name. The liquid gelatin is soaked up by the cake and runs into the holes. I like to blend frozen strawberries and add it to the liquid, too. I've had this cake so many times as a kid and folks tell me they remember it from their childhood as well. I know, I know, it's 100% from mixes and tubs, but it's so good! And why mess with a good thing?
Although it's delicious, I'm kicking myself after I made this version. I searched and searched for my favorite version and of course, didn't find it until after I made this one. My favorite is the Strawberry Refrigerator Cake from Duncan Hines. Instead of Jello, it's strawberry puree that's poured into the holes and the topping has pudding mix added. It's phenomenal! Try both and see which version is your favorite summer dessert!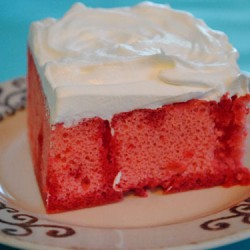 Strawberry Poke Cake
Ingredients:
1 box strawberry cake mix
water, oil, and eggs called for on the box
1 box (4-serving size) strawberry-flavored gelatin
1 cup boiling water
1/2 cup cold water
8 oz. frozen whipped topping, thawed
Directions:
1. Heat oven to 350°F (325°F for dark or nonstick pan).
2. Make and cool cake as directed on box for 13x9-inch pan.
3. Pierce cooled cake all over with fork. In small bowl, stir gelatin and boiling water until smooth; stir in cold water. Pour over cake. Run knife around sides of pan to loosen cake. Refrigerate 2 hours. Frost with whipped topping. Store covered in refrigerator.