I've saved the best for last in my Clean Slate series. However, I'd never argue that dessert wasn't always the best anyway. Have you seen that movie Simply Irresistible with Sarah Michelle Gellar and Sean Patrick Flanery? Super cute movie with a food theme, so I love it. There's one line where SMG says something like "dessert is the whole point of the meal" and I couldn't agree more! You will not believe these Chocolate Walnut Brownies are in a clean eating cookbook! I don't usually like to mess with desserts, but these are a winner. I didn't share one single brownie. That's saying something!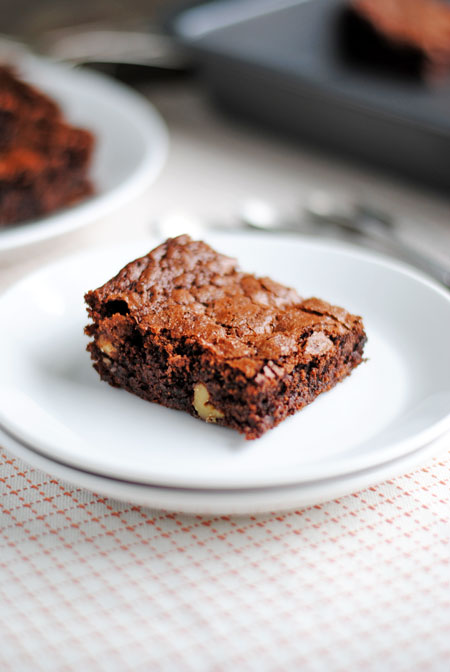 So, how's it taste?
Would you believe there's no all-purpose flour in this recipe? It's all almond flour, making these brownies gluten-free! Instead of sprinkling the walnuts on top, as the recipe suggests, I mixed them in. I didn't want them to get too toasted on top and it worked perfectly.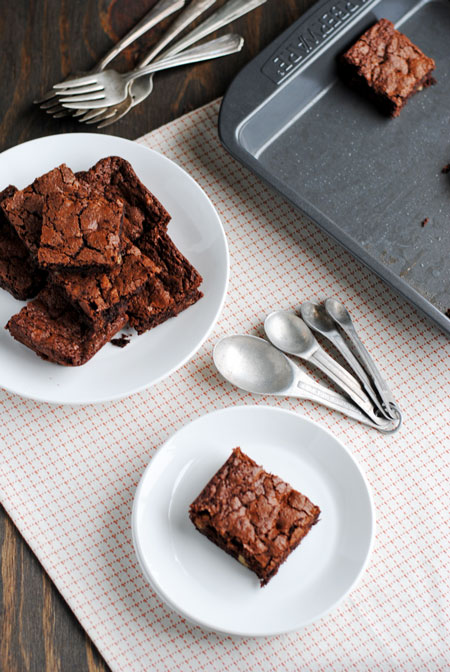 The brownies were a bit more fragile than brownies made with all-purpose flour, but the flavor more than makes up for that. They're just perfect.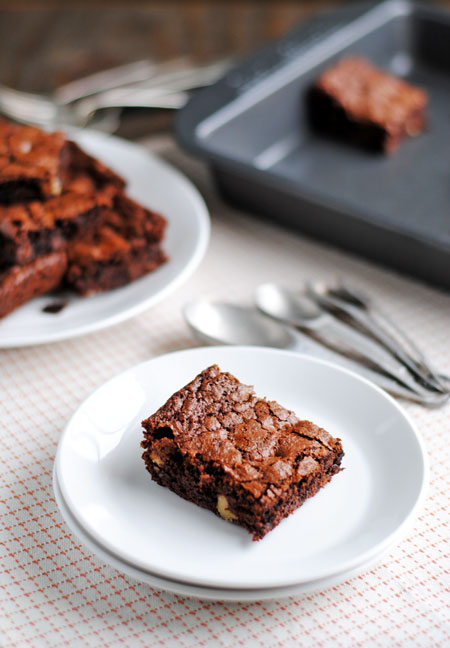 I was nervous about being able to detect the olive oil in the finished brownie, but you can't. You also can't detect the maple syrup, which is what I wanted. I still want them to taste like good old-fashioned brownies, even if they are part of clean eating! Believe it or not, you don't have to give up decadent desserts!
The dishes you see in the pictures above are part of the Martha Stewart Collection white dishware available exclusively at Macy's. Fantastic dishware for everyday use, plus they're dishwasher and microwave safe!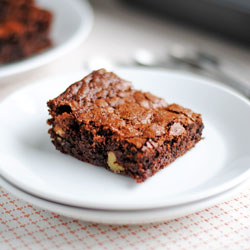 Chocolate Walnut Brownies
Ingredients:
1/3 cup extra-virgin olive oil, plus more for brushing
8 oz. dark chocolate (at least 70% cacao), chopped
1/3 cup light brown sugar
1/3 cup pure maple syrup
2 large eggs
2 tbsp. unsweetened cocoa powder
1/2 tsp. baking soda
1/4 tsp. coarse salt
2/3 cup almond flour
1/2 cup coarsely chopped walnuts
Directions:
1. Preheat oven to 350F. Brush an 8-inch square baking pan with oil. Line with parchment, leaving overhang. Brush parchment with oil.
2. Melt half of chocolate in a heatproof bowl; whisk in oil, sugar, and syrup. Remove from heat.
3. Whisk in eggs, one at a time, then cocoa, baking soda, and salt. Fold in flour and remaining chocolate. Pour batter into prepared pan; sprinkle with walnuts (or fold in).
4. Bake until a toothpick comes out clean, about 30 minutes. Let cool completely on wire rack. To serve, cut into squares.
per serving (1 brownie): 206 calories, 16g fat, 17g carbs, 3g protein, 2g fiber
Disclosure: I received a copy of Clean Slate: A Cookbook and Guide: Reset Your Health, Detox Your Body, and Feel Your Best and the Martha Stewart Collection white dishware at no cost. All opinions expressed here are solely my own, as always. This post contains affiliate links.