Hello chocolate! This has got to be one of my favorite chocolate cakes. Triple Chocolate Picnic Cake is easy to prepare and tastes moist and delicious. The glaze alone is drool inducing. Look at it just dripping over the sides! It's definitely a cake worthy of picnics and potlucks. I made this one for a friend's birthday and by the empty cake carrier at the end of the night, I'd say it was a hit!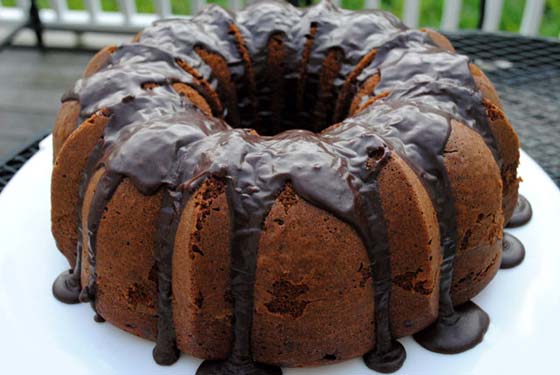 So, how's it taste?
I'm not sure this cake could get more chocolatey, so you know this girl loved it. German chocolate cake mix, pudding, and chocolate chips make for one awesome cake! The mini chocolate chips are my favorite part because with each bite you get tiny bursts of pure chocolate. The next time you bake, make sure this is what's in your oven. You won't be disappointed!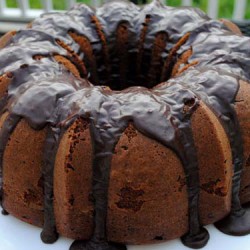 Triple Chocolate Picnic Cake
Ingredients:
Cake
1 (18.25 oz.) package pudding-included German chocolate cake mix
3/4 cup water
4 eggs
1 cup butter, softened
1 (4 oz.) package instant chocolate pudding and pie filling mix
1 cup miniature semisweet chocolate chips
Glaze
1/3 cup powdered sugar
2 to 3 tbsp. milk
1/2 cup miniature semisweet chocolate chips
Directions:
1. Heat oven to 325. Grease and flour 12-cup Bundt® pan. In large bowl, combine all cake ingredients except chocolate chips. Beat at low speed until moistened. Beat 2 minutes on high speed. Fold in 1 cup chocolate chips. Pour into pan.
2. Bake at 325 for 60 to 75 minutes or until edges pull away from sides of pan. Cool 15 minutes. Invert cake onto serving platter.
3. In small saucepan, combine powdered sugar, 2 tablespoons of milk and 1/2 cup chocolate chips. Cook over low heat until chocolate chips are melted and mixture is smooth, stirring constantly. Add enough milk for desired consistency. Slowly pour and spread glaze over warm cake. Cool 30 minutes or until completely cooled.