You know my love affair with scones, so it shouldn't be a surprise that one of the dishes I made with my fresh-picked strawberries was Strawberry Scones. Plus I had to have something not-too-sweet to drizzle (er, smother) that incredible Strawberry Curd over! The two were made for each other. These scones are great by themselves, too. Crunchy on top and fluffy inside. Slightly sweet from the coarse sugar and just a hint of orange inside.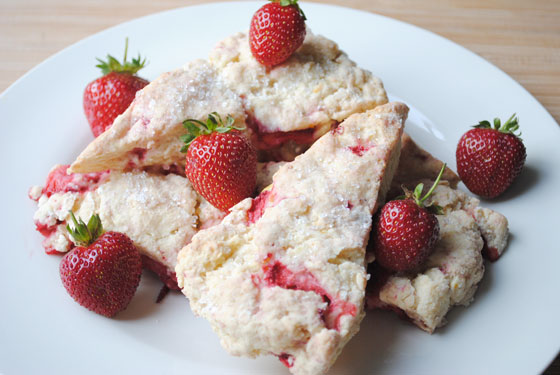 So, how's it taste?
As far as scones go, these are pretty top notch. You can't beat a crunchy crust, pillowy inside, and bursts of strawberries. The recipe calls for frozen strawberries so that the scones don't get mushy too quickly. You can certainly use frozen strawberries from the grocery store, or freeze your own if you're a strawberry picker like me. These scones are barely sweet, so if you're not going to top them with curd, I'd probably add a bit of glaze. I think an orange glaze would be fantastic as I was a bit disappointed the orange wasn't more prominent in the final product. You can find a great scone glaze recipe here, just substitute orange for the lemon (or lemon glaze would be tasty, too).
They'll keep for a few days in a tightly covered container or wrap them individually in plastic wrap and put them in a freezer bag and freeze. Pop them in the microwave for 15-20 seconds and you've got breakfast (or late night treat) in no time!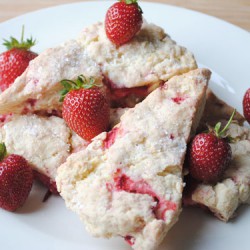 Strawberry Scones
Ingredients:
1 1/2 cups chopped frozen strawberries
3 cups all-purpose flour
1 tbsp. baking powder
1/3 cup sugar
1/2 tsp. salt
1 stick chilled unsalted butter, cut into small cubes
1 large orange, zested and juiced (to produce 1/4 cup of juice)
3/4 cup fat-free Greek yogurt
2 tbsp. coarse sugar
Directions:
1. Preheat oven to 400. In a mixer, combine flour, baking powder, sugar, and salt on low speed. With mixer running, gradually add cubes of butter and orange zest until the mixture is crumbly.
2. Add frozen strawberries, orange juice, and yogurt. Mix until all ingredients are incorporated. The dough will be very stiff.
3. Turn dough out onto a lightly-floured surface. Pat dough into a 1-inch-thick rectangle Cut in half down the long side and then into thirds down the short side. Cut each square into triangles for 12 scones.
4. Sprinkle scones with coarse sugar. Place scones on a lined baking sheet and bake for 18 to 20 minutes, or until golden brown.