Ah, another birthday, another cake to bake! I wanted to make something chocolate, but didn't want the same ol' chocolate cake. I scoured what seemed like a ton of cookbooks. Nothing really caught my eye until I came across this Chocolate Boston Cream Pie. What a fun twist on a classic dessert!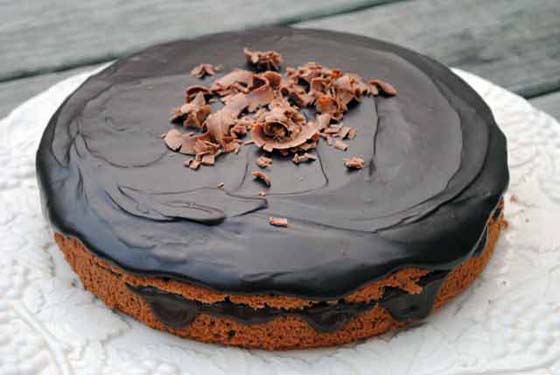 So, how's it taste?
This cake was incredibly decadent. I usually think of Boston Cream Pies as a bit boring, but change every element into something chocolate and you've got a really special dessert. The cake itself wasn't very sweet, which made me nervous at first. But after I tasted the custard filling and the chocolate glaze, I understood why. Both are so rich and chocolatey that you have to have this particular cake to balance it out. The cake, custard, and glaze create this chocolate bliss like I've never tasted before. Creamy, cool custard with the not-so-sweet cake, topped with a velvety glaze. It was amazing!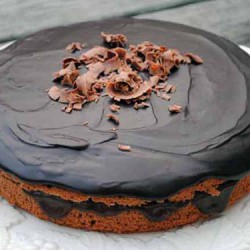 Chocolate Boston Cream Pie
Ingredients:
Cake
1 cup all-purpose flour
1/4 cup unsweetened cocoa powder
4 egg yolks
1/3 cup water
1 tsp. vanilla
2/3 cup sugar
4 egg whites
1/4 tsp. cream of tartar
1/3 cup sugar

Custard
2/3 cup sugar
2 tbsp. cornstarch
1 1/2 cups milk
2 oz. unsweetened chocolate, chopped
2 egg yolks
1 tsp. vanilla
Glaze
2 oz. unsweetened chocolate, chopped
1 tbsp. butter
3/4 cup powdered sugar
1/2 tsp. vanilla
4-8 tsp. hot water
Directions:
1. Stir together flour and cocoa powder; set aside.
2. Beat egg yolks on high speed 5 minutes or until thick. Beat in water and vanilla on low speed. Gradually add 2/3 cup sugar beating on low to medium speed. Beat on medium to high speed until mixture thickens and doubles in volume (about 5 minutes). Fold in flour mixture, sprinkling 1/4 cup over yolk mixture at a time. Wash beaters.
3. Beat egg whites and cream of tartar until soft peaks form. Fold about 1 cup of the whites mixture into the yolk mixture; fold yolk mixture back into whites mixture. Pour into ungreased 9-inch springform pan.
4. Bake in 325 degree oven 45 to 50 minutes or until top springs back when touched. Invert cake in pan. Cool. Remove from pan. Split cake into 2 layers.
5. For the custard, in heavy saucepan mix 2/3 cup sugar and 2 tablespoons cornstarch. Stir in 1 1/2 cups milk and 2 ounces of the chopped unsweetened chocolate. Cook and stir until bubbly; cook and stir 2 minutes more. Remove from heat. Stir 1 cup of hot mixture into 2 beaten egg yolks. Return to saucepan. Cook and stir 2 minutes more. Stir in 1 teaspoon vanilla. Cover with plastic wrap. Chill.
6. For the glaze, melt the 2 ounces of chopped unsweetened chocolate and 1 tablespoon butter. Remove from heat; stir in 3/4 cup sifted powdered sugar and 1/2 teaspoon vanilla. Gradually add 4 to 8 teaspoons hot water, stirring until glaze is of a thin spreading consistency.
7. Spread one layer of cake with custard; place other layer of cake on top. Spread glaze over top. If desired, top with chocolate curls. Chill until serving.