I really need to make more cheesecakes. I'm not sure how they tend to fall off my radar, but that gets remedied right now with White Chocolate Cranberry Cheesecake! Tender cheesecake marked with sweet white chocolate and topped with tart cranberries. It's the perfect balance of flavor in a smooth, decadent dessert.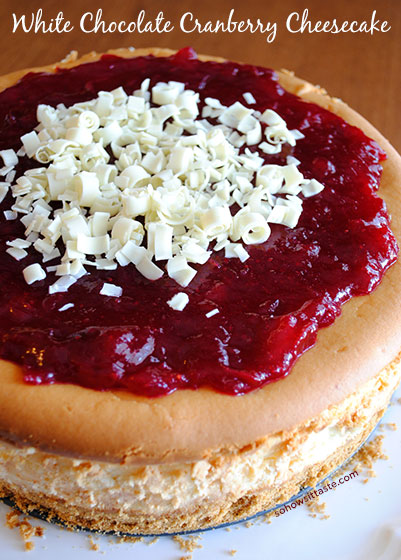 So, how's it taste?
Loved it! It had been so long since I'd made a real cheesecake that I was a bit nervous it wouldn't turn out. They're kind of intimidating with the water bath and potential for cracking. I started off on the wrong foot by not pressing the crust up the sides. I ended up with a really thick crust and a cheesecake that almost spilled over my pan, so don't make that mistake! This caused my cheesecake to be a bit thicker so the very center didn't set up. It still tasted absolutely fantastic though! You can't really distinguish the white chocolate, but it does help to tame the tart of the cranberry compote on top. It was so creamy and so perfectly sweet swirled with the cranberry. I never wanted this cake to end. A huge plus is that if your cheesecake cracks (mine did), you can cover it up with the compote and no one ever has to know!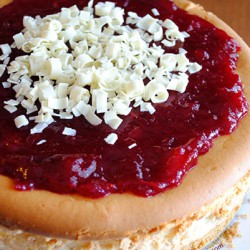 Yield: 8-10 servings
Prep Time: 2 hr 20 min
Cook Time: 1 hr 20 min
Total Time: 3 hr 40 min
White Chocolate Cranberry Cheesecake
Ingredients:
Crust
18 whole graham crackers, finely crushed (about 2 cups crumbs)
2 tbsp. sugar
Pinch of freshly grated nutmeg
Pinch of salt
5 tbsp. unsalted butter, melted and slightly cooled
Filling
4 oz. white chocolate, chopped, plus shaved chocolate for topping
4 (8-oz.) packages cream cheese, room temperature
1 cup sour cream
1 cup plus 2 tbsp. sugar
4 large eggs
2 tbsp. cornstarch
1 tsp. vanilla extract
Pinch of salt
Compote
1 (1 lb.) bag cranberries (thawed and drained if frozen)
1 cup sugar
1 tsp. grated orange zest
2 tbsp. fresh orange juice
Directions:
1. For the crust, set racks in the lower third and middle of the oven; preheat to 350 degrees F. Mix the graham cracker crumbs, sugar, nutmeg, and salt in a bowl. Add the melted butter and mix with your hands until combined. Press into the bottom and 1 inch up the side of a 9-inch springform pan. Freeze until ready to fill.
2. For the filling, bring 1 inch of water to a boil in a small pot; remove from the heat. Put the white chocolate in a medium heatproof bowl and set over the pot (do not let the bowl touch the water); stir until melted, about 4 minutes. Remove the bowl from the pot and set aside.
3. Beat the cream cheese, sour cream, and sugar in a large bowl with a mixer on medium-high speed until light and fluffy, about 7 minutes. Beat in the eggs, one at a time, then add the cornstarch and beat 2 minutes. Beat in the melted white chocolate, vanilla, and salt until combined.
4. Fill a roasting pan halfway with water and set on the lower oven rack. Pour the filling into the prepared crust and set on the middle oven rack. Bake until the edge is set but the center still jiggles slightly, 1 hour, 10 minutes. Turn off the oven and let the cheesecake sit in the oven, 30 minutes. Transfer to a rack to cool completely. Cover and refrigerate 8 hours or overnight.
5. For the compote, combine cranberries, sugar, zest, and orange juice in a medium saucepan over medium heat, stirring until sugar is dissolved, about 5 minutes. Bring to a boil, stirring occasionally, then reduce heat to medium low and simmer until thickened and cranberries are beginning to fall apart, about 20 to 25 minutes. Transfer the compote to a bowl and refrigerate until completely cool.
6. Before serving, run a hot knife around the edge of the cheesecake, then remove the springform ring. Top with the cranberry compote and shaved white chocolate.