Here's a cake that is off the charts. Seriously, it will never get better than this. I first spied a Whoopie Pie Cake on the Cookies and Cups blog. I think my mouth hung open for a good 5 minutes while I lovingly stared at those delicious pics. What a great idea! One giant whoopie pie! Then of course when I think whoopie pie, I think back to these Cookie Dough Whoopie Pies I made from The Cookie Dough Lover's Cookbook. If you've read that post, you know they rank super high on my list of all-time favorite desserts. So heck yeah I was going to merge these two ideas and make a giant Chocolate Chip Cookie Dough Whoopie Pie Cake!
So, how's it taste?
Um, it smacked me in the face with it's fabulousness. I made this cake for another birthday in the office and it took every single ounce of willpower not to dive right in after I made it. I almost texted the birthday boy to ask permission to go ahead and cut a slice. I'm not joking. I mean look at it! Two layers of moist devil's food cake sandwiching the best filling in the world. The filling tastes just like chocolate chip cookie dough. It's got a hint of saltiness and is a tad bit grainy from the brown sugar, just like cookie dough.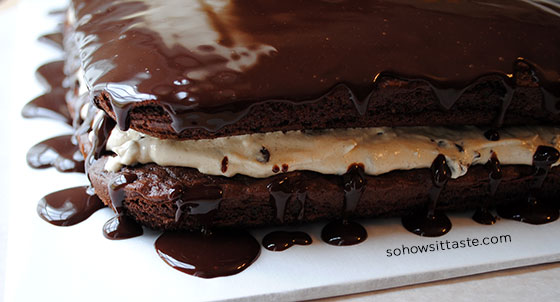 As if all that wasn't enough, let's pour some rich, velvety smooth chocolate ganache over the entire cake. Look at those puddles of chocolate. It's like they're reaching out to you, daring you to not take a bite. I could bury my face in this and be happy for a good hour or two trying to eat my way out of it. (I will point out that it's a lot of ganache. You know I'm a chocolate lover, but it pooled off the sides too much. Next time I make this, I'll reduce the amount.)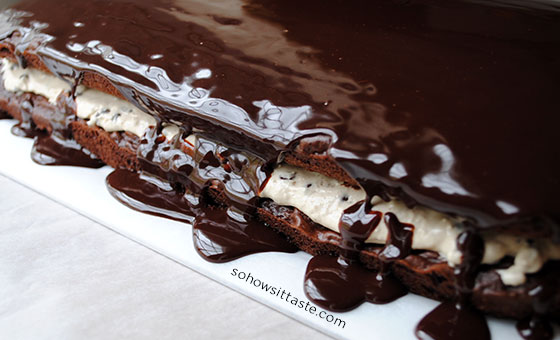 I made this using a 9×13 pan, but you could use two 9-inch round pans if you want it to really look like a giant whoopie pie. I might have to make this again just to see which shape I prefer. All in the name of research, right? If you don't have two 9×13 pans, don't worry. I made mine with one pan. Just bake one cake and let it cool a bit in the pan. Finish cooling the first cake on a wire rack while you wash the pan and repeat. It's ok for the cake batter to wait while the first one bakes.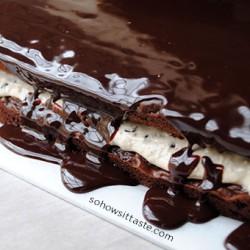 Chocolate Chip Cookie Dough Whoopie Pie Cake
Ingredients:
Cake
1 box devil's food cake mix (prepare per package directions) + 1 extra egg
cocoa powder for dusting the pan
Filling
1/2 cup unsalted butter, room temperature
1/2 cup light brown sugar, packed
1/3 cup all-purpose flour
1/2 tsp. salt
1 (7 oz.) jar marshmallow creme
1 tsp. vanilla extract
2/3 cup mini semisweet chocolate chips
Ganache
1/2 cup heavy cream
1 cup semisweet chocolate chips
Directions:
1. For the cake, preheat oven to 350F. Butter two 9x13 pans and dust with cocoa powder. Tap gently to remove any excess and set aside. If you only have one pan, bake one at at time.
2. Prepare the cake mix according to package directions, adding an extra egg. This makes the cake a bit more sturdy. Split batter evenly between the two pans. Bake for 15-20 minutes until a toothpick inserted in the center comes out clean. Allow cakes to cool completely.
3. For the filling, beat together the butter and brown sugar using an electric mixer on medium speed until light and fluffy, about 2 minutes. Mix in flour and salt on low speed until incorporated. Add marshmallow creme and vanilla and beat until fluffy. Stir in the chocolate chips.
4. For the ganache, bring heavy cream to almost a boil in a small saucepan. Remove from heat and stir in chocolate chips. Keep stirring until smooth. Cool for about 10 minutes and then pour over top of cake. Use a small offset spatula to spread to the edges. Ganache will get thicker as it cools.