I know this time of year people are looking online for healthy foods and ways to get back in shape after the holidays. Trust me, I'm doing the same thing. As much as I'd love to give you that, I've got a list of yummy eats I enjoyed that I'm dying to share with you. I figure this is the good stuff that got me in this wanting to eat healthier predicament, so it must be worth sharing, right? Let's start with Corn Casserole. I've made this creamy, cheesy, insanely delicious casserole for years. However, I've never made it with the bell peppers until now. Hello, favorite casserole ever!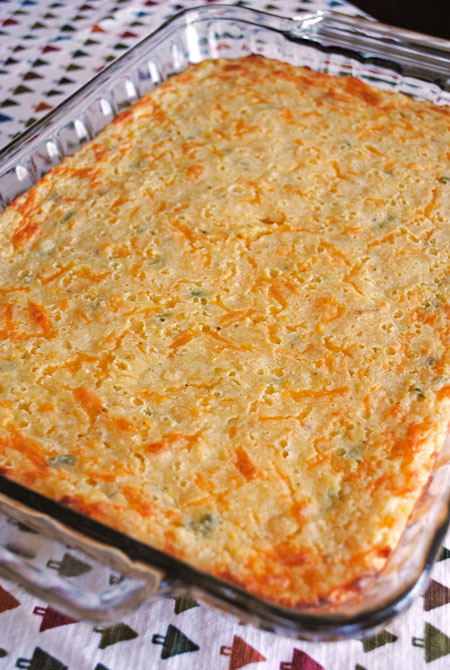 So, how's it taste?
I've loved it for years and I still do. This is the one leftover that I never tire of. It's packed with cheese and sour cream, which are two of my favorite casserole additions! It's also super simple to make. Yes, it's one of those dishes that uses canned and boxed products, but don't get all snobby just yet. I like that this can take the place of having bread at the table, too, since it's got cornbread in the mix. I just can't get enough of this one.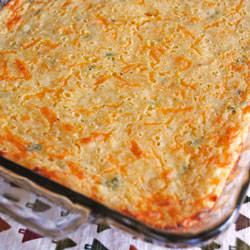 Corn Casserole
Ingredients:
2 tbsp. butter
1/2 cup chopped onions
1/2 cup chopped bell pepper
1 can whole kernel corn (do not drain)
1 can cream-style corn
1 box Jiffy cornbread mix
2 eggs
8 oz. sour cream
8 oz. shredded sharp Cheddar
salt & pepper, to taste
Directions:
1. Preheat oven to 350F. In a skillet over medium-high heat, melt butter. Add onion and bell pepper. Sauté until tender.
2. In a large bowl, mix both cans of corn with Jiffy cornbread mix. Add cooked onion/pepper mixture and eggs. Mix until well combined.
3. Fold in sour cream and Cheddar. (Sometimes I leave streaks of sour cream in so I can taste it, but you can completely mix it in, too.)
4. Pour mixture into a 9x13 baking dish. Bake for 30 minutes or until golden brown.
Source: Judy Chambers, 1996 JCPenney Associate Cookbook