Have I mentioned how much I love food on the grill? It seems so much more fun to cook when it's outdoors and you really can't get that flavor from anywhere else. These Grilled Parmesan Potatoes and Carrots are the perfect sidekick to any meat you serve. I grilled these with Barbecue Cola Chicken and it was a fantastic meal.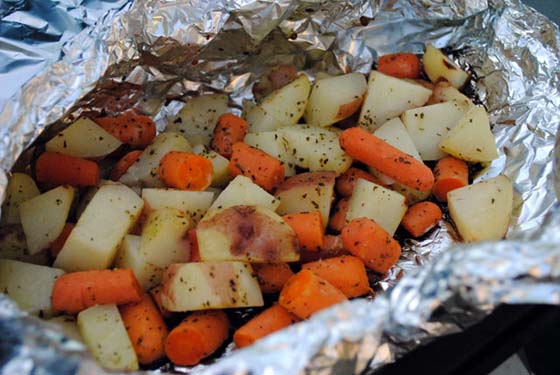 So, how's it taste?
Tender bites of veggies with a touch of saltiness from the seasonings and Parmesan. Not too heavy on the herbs with Italian seasoning mixed in and a hint of chives that are added at the end. It's a great dish to serve alongside your main event that won't overpower or hog the spotlight. I also like that once everything is mixed together, you can leave it on the grill while you tend to the rest of your meal. It takes about 45 minutes to cook, leaving you plenty of time for that steak or chicken. Once grilling season is over, these would be great in the oven as well.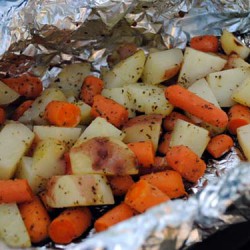 Grilled Parmesan Potatoes and Carrots
Ingredients:
6 small red potatoes (about 3/4 lb.), unpeeled, cut into 1 to 1 1/2-inch pieces (about 2 cups) (I peeled mine just a bit)
1 cup baby-cut carrots
2 tbsp. butter, melted
1/2 tsp. dried Italian seasoning
1/2 tsp. peppered seasoned salt
2 tbsp. shredded fresh Parmesan
2 tbsp. fresh chives, chopped
Directions:
1. Heat gas or charcoal grill. Cut 18x12-inch sheet of heavy duty aluminum foil. Place potatoes and carrots in center. Drizzle with butter. Sprinkle with Italian seasoning, salt, and cheese. Stir slightly to mix and coat vegetables. Wrap packet securely using double-fold seals, allowing room for heat expansion.
2. When grill is heated, place packet seam side up on gas grill over medium heat or charcoal grill 4 to 6 inches from medium coals. Cook 45 to 50 minutes or until vegetables are tender.
3. Open packet carefully to allow steam to escape. Sprinkle with chives.