In my same mode of finding meals without the usual meats, this Chipotle Red Beans and Rice Casserole really fits the bill. The good thing about casseroles is that you throw a bunch of ingredients together, bake it, and waa la! Dinner!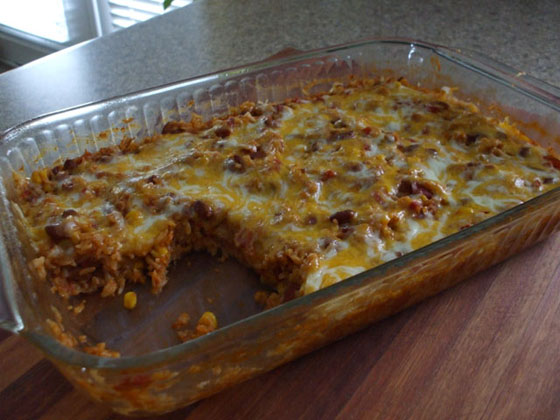 So, how's it taste?
Loved it, loved it, loved it! I have recently discovered how much I love adobo sauce. It's like the spicy sister of regular barbecue sauce. Just a small amount brings such a nice taste to a dish. This recipe includes one chipotle chili and it packs some heat! I like to top off my serving with some cool sour cream to balance out the heat. The original recipe calls for topping the casserole with chile cheese corn chips. I left those out to save some calories, but I'd be curious to see what they add to the dish. Although I imagine they would get soggy for the leftovers. A definite thumbs up for this easy meal!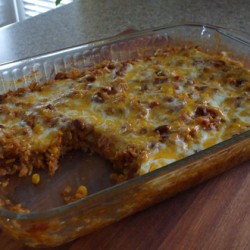 Chipotle Red Beans and Rice Casserole
Ingredients:
1 cup uncooked regular long-grain rice
1 cup frozen corn
1 can (15 oz.) spicy chili beans in sauce, undrained
1 can (14 oz.) vegetable broth
1 can (14.5 oz) diced tomatoes with green chiles, undrained
1 chipotle chile in adobo sauce (from 7 oz. can), chopped
1 cup chili cheese-flavored corn chips
1 cup shredded Monterey Jack cheese (4 oz.)
Directions:
1. Heat oven to 350°F. Spray 2-quart casserole or 8-inch square (2-quart) glass baking dish with cooking spray. In baking dish, mix rice, corn, beans, broth, tomatoes and chile.
2. Cover with lid or foil; bake 1 hour. Uncover; stir well. Sprinkle with chips and cheese. Bake uncovered 10 to 15 minutes longer or until bubbly and rice is tender.