Chicken can normally be really boring as a dinner option, unless you're making Ginger Spiced Chicken! There's so much flavor going on in this dish, it'll make you think twice about calling chicken boring ever again. The marinade is easy to make and serves as the sauce in the finished dish. Served over rice, this is one filling, delicious, easy weeknight dinner.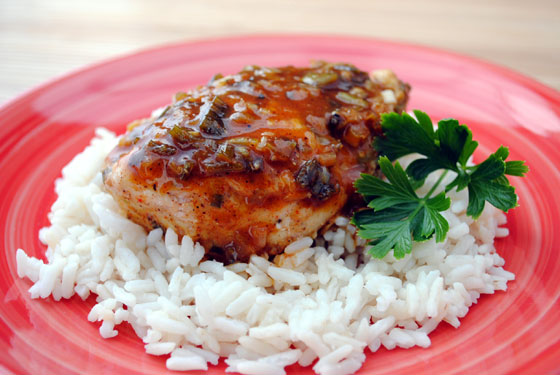 So, how's it taste?
There's so much going on I don't know where to begin. It's spicy from the green onions, but a tad bit sweet thanks to the bit of brown sugar and the orange juice. The o.j. gives it a fresh, citrus kick, too. Ginger, coriander, garlic, paprika, and cinnamon…it's a magical combination of spices and flavors. You can either cook the chicken in all the marinade, or opt for boiling the extra marinade in a saucepan and serving it over the cooked chicken and rice. I'm a sauce junkie, so the more the better for me! I did end up making two batches of the sauce because I liked it so much and wanted more to put over my rice. I also added a few splashes of soy sauce over the finished dish to add another element of flavor. This meal has definitely won me over in the chicken department!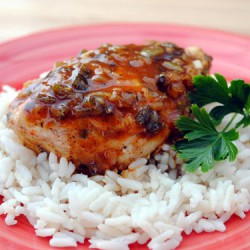 Ginger Spiced Chicken
Ingredients:
4 skinless, boneless chicken breast halves
1/2 cup finely chopped green onions
1/2 cup orange juice
1 tbsp. brown sugar
1 tbsp. finely chopped fresh ginger
1 tbsp. olive oil
2 cloves garlic, minced
1 tsp. ground coriander
1/2 tsp. paprika
1/4 tsp. salt
1/4 tsp. ground cinnamon
1/4 tsp. freshly ground black pepper
Nonstick cooking spray
2 cups hot cooked rice
Directions:
1. Place chicken in a plastic bag and set in shallow dish. For marinade, in a small bowl combine green onions, orange juice, brown sugar, ginger, oil, garlic, coriander, paprika, salt, cinnamon, and pepper. Pour over chicken. Seal bag or cover dish. Marinate in the fridge for at least 2 hours or up to 6 hours, turning chicken at least once. Drain chicken, reserving the marinade.
2. Lightly coat a 2-quart rectangular baking dish with nonstick cooking spray. Arrange chicken in the prepared baking dish; pour marinade over chicken. (As an alternative, I put my reserved marinade in a small saucepan and brought it to a boil over med-low heat, then poured it over the cooked chicken and rice.)
3. Bake, uncovered, in a 375F oven about 20 minutes or until chicken is tender and no longer pink. Spoon rice onto 4 dinner plates. Place chicken on top of rice on dinner plates. Spoon leftover juices over chicken.