Taco Spaghetti? That sounds weird. That's what you're thinking right? I've mentioned this dish before to friends and they turn their noses up as if I'd said, "Hey for dessert let's dip broccoli in chocolate." I know it sounds strange, but trust me, merging taco salad and spaghetti is magnificent. There's no tomato sauce involved, no Parmesan, so it's not a true merging, but that probably helps you picture it's goodness better. It's like taco salad with the added bonus of pasta.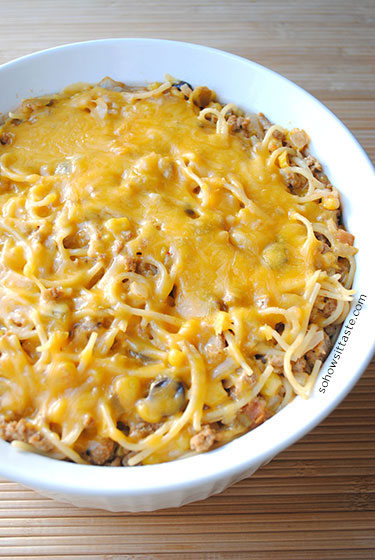 So, how's it taste?
I've been making taco spaghetti for a long time. It really is just like taco salad, but with spaghetti. I love everything about it, all the cheese, the hearty beef, tangy olives. Plus any dish I can top with sour cream is always a winner. You can turn up the heat level with the type of salsa you use and certainly a great addition would be jalapenos. This dish is fairly low calorie for quite a big serving using beef, but if you make it with turkey it's even lower. Both meats are fantastic.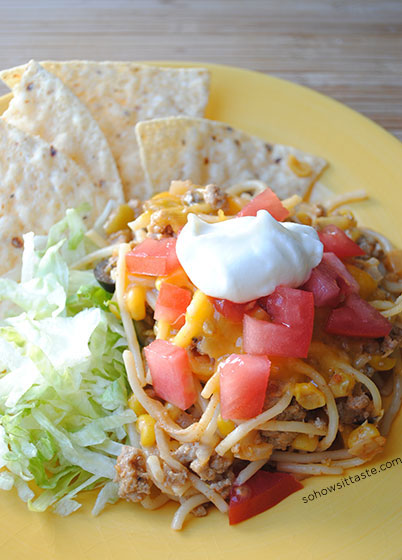 It's a really filling casserole and the leftovers are even better. It sounds strange, but I'm telling you, it's worth trying. A great conversation piece when someone asks, "What's for dinner?"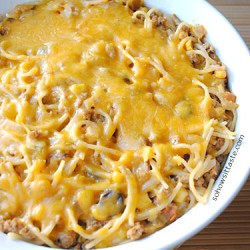 Taco Spaghetti
Better Homes and Gardens, Cooking for Today Pasta
makes 6 servings
per serving: 438 calories, 36g protein, 42g carbs, 21g fat
Ingredients:
5 oz. dried spaghetti, broken
1 lb. ground beef (or turkey)
1 large onion, chopped
3/4 cup water
2 tbsp. taco seasoning mix
11 oz. can whole kernel corn with peppers, drained
1 cup sliced pitted black olives
1 cup colby jack or cheddar, shredded
1/2 cup salsa
4 oz. can diced green chili peppers, drained
shredded lettuce
tortilla chips
tomato
sour cream, optional
Directions:
1. Cook pasta according to package directions. Drain. Preheat oven to 350F.
2. In a 12-inch skillet, cook beef and onion until meat is brown. Drain fat. Stir in water and taco seasoning. Bring to a boil; reduce heat. Simmer uncovered for 2 minutes, stirring occasionally. Stir in cooked pasta, corn, olives, half of the cheese, salsa, and green chili peppers.
3. Transfer mixture to lightly greased 2-quart round casserole. Cover with aluminum foil and bake for 15 to 20 minutes until heated through. Sprinkle with remaining cheese and bake until melted.
4. Serve with shredded lettuce, tortilla chips, tomatoes, and sour cream, if desired.