I've had my eye on the Pioneer Woman's Spicy Dr. Pepper Shredded Pork for some time now. The weather's cooler in Nashville and my slow cooker is taking up permanent residence on the counter for the next few months, so why not turn her recipe into a slow cooker recipe?! I decided I would serve the pork in tacos and didn't want the usual toppings. Browsing The Novice Chef blog, I got inspiration from her Cilantro Citrus Slaw and decided to turn it into a spicy version. I eat pork sandwiches with slaw on top, so why not pork tacos? Slow Cooker Pork Tacos with Spicy Citrus Slaw were born!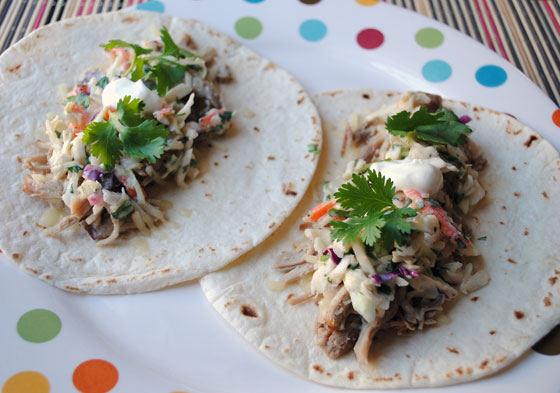 So, how's it taste?
Oh my gosh this has been one of my favorite meals. It turned out way better than I expected, which is a good thing considering how much shredded pork this makes! I have a pretty big slow cooker and used a 5-pound pork shoulder and it was trying to escape! I had to weigh down the lid and part way through cooking, I had to ladle out some of the juices as it was spilling over. Live and learn. I've cooked a ham in Coca-Cola before, so cooking with soda wasn't new to me. It tenderizes the meat so well, but I was really expecting to get some of that Dr. Pepper flavor and couldn't taste it at all. It may be because my meat was too big for my slow cooker and produced a crazy amount of juice, so the soda got lost in it. I also didn't feel much heat or taste much from the chipotles. I used half of a can, but that was still four chipotles and quite a bit of adobo sauce. Again, I'll blame the juice from the meat. Regardless, the final product was awesome. Perfectly tender and easy to shred.
The slaw turned out to be a great condiment for the tacos. It's got that crunch I was looking for, plus the sweet orange, slightly bitter lime, and fresh cilantro. It's not too hot from the Sriracha, so if you really want to turn up the heat, add more. I made this slaw with regular salt and then another batch using seasoning salt, and the second batch was best. Cabbage is pretty much flavorless and so is the greek yogurt, so it needed a lot of help. Combined with the pepper jack cheese, the heat level was just enough for me in the finished taco. I added more cilantro and just a dollop of sour cream. You could make the slaw with sour cream if you prefer. The possibilities for these tacos are endless. I'd like to throw in a couple of slices of avocado next time I have them.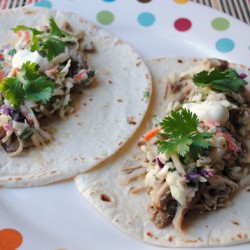 Slow Cooker Pork Tacos with Spicy Citrus Slaw
Ingredients:
Spicy Dr. Pepper Shredded Pork
1 large onion
1 (5 to 7 lbs.) pork shoulder or pork butt
salt & freshly ground black pepper
11 oz. chipotle peppers in adobo sauce
24 oz. Dr. Pepper
2 tbsp. brown sugar (optional)
Spicy Citrus Slaw
2 cups fresh bagged coleslaw mix
1/4 to 1/2 cup chopped cilantro
1 tsp. zest and juice from 1/2 large orange
zest and juice from 1 lime
3 tbsp. fat-free plain greek yogurt
1/2 tsp. Sriracha
seasoning salt & black pepper to taste
Tacos
flour tortillas
pepper jack cheese, shredded
cilantro
sour cream
any toppings you like
Directions:
1. For the pork, peel the onion and cut it into wedges. Lay them in the bottom of a large slow cooker. Generously salt and pepper the pork roast, then set it on top of the onions in the slow cooker.
2. Pour the can of chipotle peppers over the pork and include the sauce. (Use less if you don't want it as spicy.) Pour in the Dr Pepper. Optional, add brown sugar to the juice and stir in.
3. Place lid on the slow cooker and cook on low for 6 to 8 hours. Check the meat at six hours; it should be falling apart (use two forks to test.) If it's not falling apart, continue cooking for another hour, then check again.
4. Remove meat from slow cooker and place on a cutting board. Use two forks to shred meat, discarding large pieces of fat. Strain as much of the fat off the top of the cooking liquid as you can and discard it. Return the shredded meat to the cooking liquid, and keep warm until ready to serve. (You can also refrigerate the meat and liquid separately, then remove hardened fat once it's cold. Then heat up the liquid on the stovetop and return the meat to the liquid to warm up.
5. For the slaw, combine all ingredients into a medium bowl and stir to incorporate. Season with seasoning salt and freshly ground black pepper to taste. You can use it immediately, but it gets better and better the longer it sits in the refrigerator.
6. To serve, warm the flour tortillas. Top with shredded pork, pepper jack cheese, slaw, sour cream, and cilantro. Or use whatever taco toppings you like!