Welcome to my new obsession. Peach & Fresh Mozzarella Arugula Salad has been my dinner for more nights than I can count. And don't hate me for finally sharing this with you now that peaches are ending their season. It's cruel, I know. My sweet friend Natalie at Tastes Lovely shared this salad on her blog back in July and used fresh burrata instead of mozzarella. I haven't been lucky to score any burrata where I live, but fresh mozzarella makes a mighty fine substitute. I love the simplicity of this salad, and it looks so pretty plated. It's a breeze to create and you won't believe how incredible it is. It's actually quite filling, too. Sweet peaches, creamy mozzarella, and peppery arugula in a tangy balsamic vinaigrette. The finishing touch is a sweet balsamic glaze.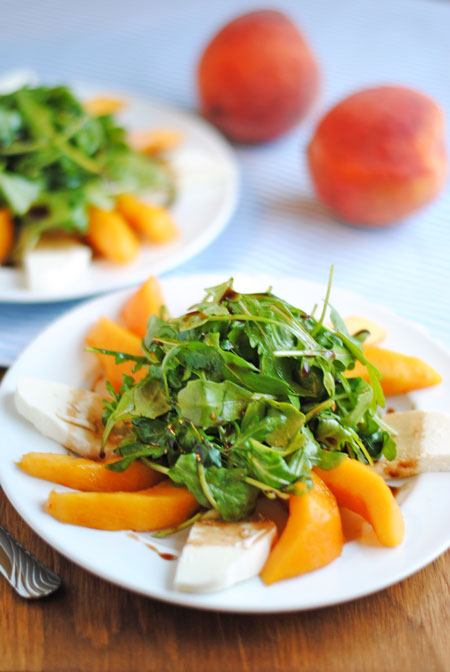 So, how's it taste?
Yep, this pretty much ranks in my top five of best meals I've had all summer. When I first made this salad, I made two servings and devoured both. I thought, "That won't fill me up. I'll make one big salad." I was in a food coma after that. A food coma…from a salad. Never thought that would be possible, but apparently there are only so many peaches and slices of mozzarella one stomach can hold. I guarantee it will happen to you because you will love this salad so much, you won't stop eating it.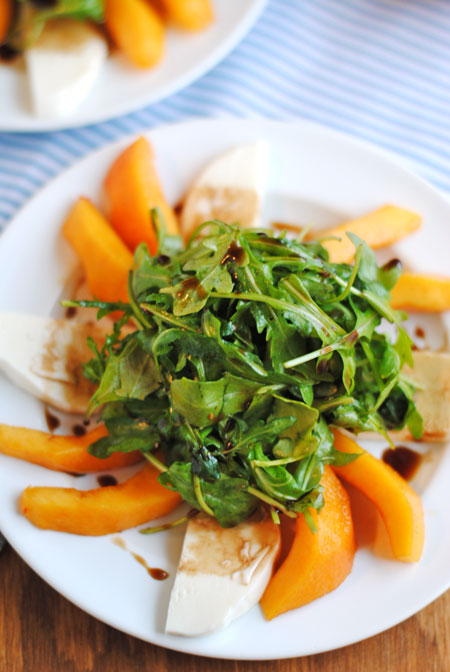 The homemade dressing is so good, I've memorized the recipe. Any time I want any kind of salad, I can whip up this awesome dressing in a snap. It's also the dressing I used in this Spinach Walnut Power Salad!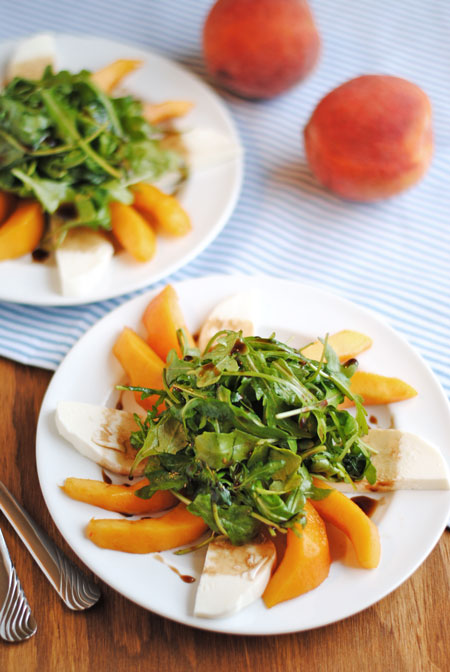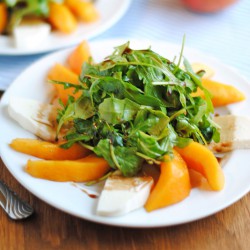 Peach & Fresh Mozzarella Arugula Salad
Ingredients:
Salad
3 peaches, sliced along the pit, then sliced into 1/2-inch-thick half moons (I also peel mine)
8 oz. fresh mozzarella, cut into 1/3-inch-thick slices (or try burrata)
6 oz. arugula
2 tbsp. balsamic glaze (not balsamic vinegar)
salt & pepper to taste
Dressing
2 tbsp. olive oil
1 tsp. dijon mustard
1 tsp. balsamic vinegar
1 tsp. honey
salt & pepper to taste
Directions:
1. Arrange the peach and mozzarella slices along the outer edges of two plates, leaving the center open.
2. For the dressing, mix all the dressing ingredients and whisk until combined. Season with salt and pepper to taste. Add in the arugula, and toss to coat.
3. Add the dressed arugula to the center of each plate and drizzle balsamic glaze on the peaches and mozzarella. Season with salt and pepper to taste.