Oh look, it's another pasta dish! Shocker, I know, since I never make the stuff. I really try to have a variety, but lately I've been lucking out with some fantastic, low-calorie pasta meals. Gorgonzola Linguine with Walnuts caught my eye instantly, but wasn't exactly figure friendly. No problem! A few substitutions and I was in business with a creamy, cheesy pasta that I felt zero guilt about eating.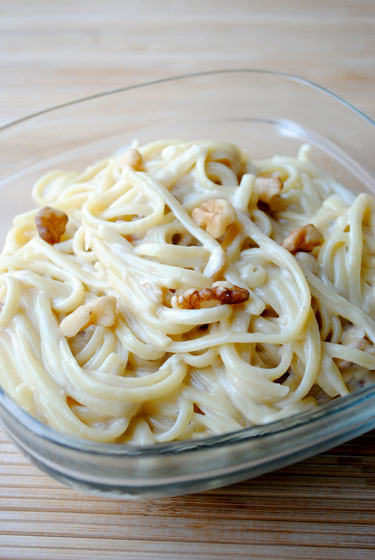 So, how's it taste?
Loved it, loved it, loved it. You've gotta be a fan of Gorgonzola to like this one though. I happen to love the stuff, especially when paired with walnuts. This pasta doesn't taste like you made any lower-calorie substitutions. It tastes like you're cheating. You know it's a good meal when that happens. The sauce is creamy and tangy from the Gorgonzola and the walnuts add a nice crunch. I opted not to toast mine (since I have a horrible track record of burning nuts) and it tasted great. I also made this dish once using pecans and it was just as tasty. This is yet another pasta dish I didn't mind eating several days in a row.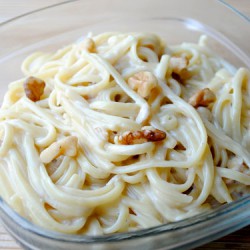 Gorgonzola Linguine with Walnuts
Ingredients:
8 oz. uncooked linguine
1 tbsp. butter
1 clove garlic, minced
1 tbsp. all-purpose flour
1 cup fat-free evaporated milk
1/4 cup chicken or vegetable broth
1/4 tsp. salt
1/2 cup crumbled reduced-fat Gorgonzola cheese
3 tbsp. walnuts, toasted* and finely chopped
Directions:
1. Cook and drain linguine as directed on package.
2. Meanwhile, melt butter in 2-quart saucepan over medium heat. Cook garlic in butter, stirring occasionally, until garlic is golden brown. Stir in flour until smooth and bubbly. Stir in milk, chicken broth, and salt. Cook, stirring constantly, until mixture begins to thicken.
3. Reduce heat to medium-low. Stir cheese into sauce; cook, stirring frequently, until cheese is melted. Toss linguine and sauce in large bowl. Sprinkle with walnuts.
*To toast walnuts: Bake uncovered in ungreased shallow pan in 350F oven about 10 minutes, stirring occasionally, until golden brown or cook in ungreased heavy skillet over medium-low heat 5 to 7 minutes, stirring frequently until browning begins, then stirring constantly until golden brown.