I know I have nothing to complain about, seeing as I don't live in the northen U.S., but we sure have seen some snow this season in Nashville. What better way to warm up, than with a good pot of soup. I chose a White Bean Soup from one of my vegetarian cookbooks, mostly because I have never cooked with dried beans and the recipe seemed really easy. I made sure I soaked the beans the night before and planned to let the soup cook while I did chores around the house. The aroma in the house as the bay leaf cooked in the soup was incredible! I could not wait to dig in!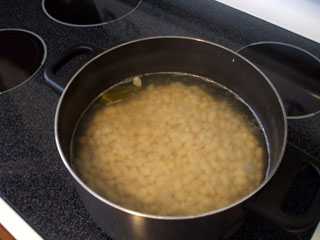 So, how's it taste?
It was so good and filling! I couldn't believe how creamy it turned out. I left out the celery in my batch and added extra carrots to make up the difference. The taste was so fresh. I did end up adding a lot of salt to my serving though. Next time I may try to use canned beans to see if the salt content would be better. I'd like to try adding some red pepper to spice it up a bit, too. This soup also froze very well. I divided into individual portions and had a quick, portable lunch to take to work. I'm ready for this winter weather to go away, but I'll be looking forward to making this dish again!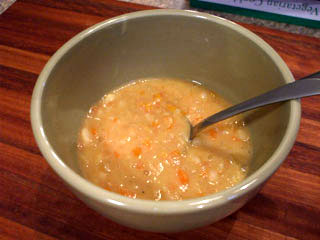 (this is a serving, but looks small since my bowls are ginormous!)
White Bean Soup
Ingredients:
1 1/2c dried white beans
1 bay leaf
5 T olive oil (I only used 3)
1 med onion, finely chopped
1 carrot, finely chopped
1 celery rib, finely chopped
3 med tomatoes, peeled and finely chopped
2 cloves garlic, finely chopped
1 tsp fresh thyme
3c boiling water (I like my soup thick so I used 2 1/2c)
salt and pepper to taste
Directions:
1. Pick over the beans and rinse thoroughly in cold water. Soak in a large bowl of cold water overnight. Drain the beans, place in a large saucepan of water, bring to a boil, and cook for 20 minutes. Drain. Return the beans to the pan, cover with cold water, and bring to a boil again. Add the bay leaf and cook for 1 - 2 hours, until the beans are tender. Drain, remove the bay leaf.
2. Puree about three-quarters of the beans in a food processor, adding a little water if necessary to create a smooth paste.
3. Heat the oil in a large saucepan. Stir in the onion and cook until it softens. Add the carrot and celery, and cook for 5 minutes more.
4. Stir in the tomatoes, garlic, and thyme. Cook for 6 - 8 minutes more, stirring often.
5. Pour in the boiling water. Stir in the beans and the bean puree. Season with salt and pepper. Simmer for 10 - 15 minutes.