I chose this Herbed Cheese Polenta as an alternative to mashed potatoes. I was potatoed-out, if you can believe that's possible. This side dish was excellent served with Pot Roast with Porcini Mushrooms. Fresh herbs really shine in this dish and I will eat just about anything with cheese.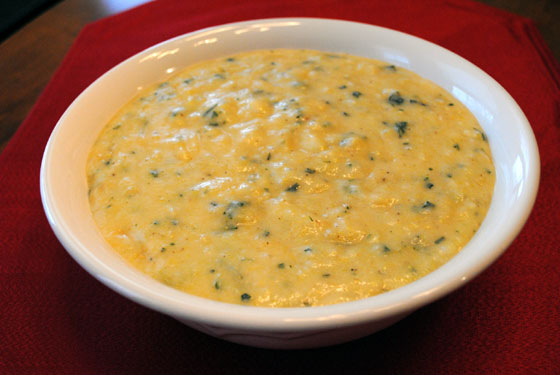 So, how's it taste?
It was divine. A very delicate herb flavor, so that's why I like it for a side dish. It won't hog the spotlight from your main dish, but it's fancy enough to accompany just about anything. The texture is supposed to be smooth and creamy, but I let my impatience get the best of me and dumped all the cornmeal in at once. Do not do this! It gets way too lumpy and you'll never get all the lumps out. Take your time and gradually whisk it in. My polenta was a tad bit on the runny side, but I think it was due to all the lumps I just couldn't get out. If your mixture still seems a bit on the thin side after you've added all the cornmeal, I suggest gradually adding the milk and butter.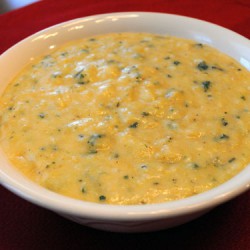 Herbed Cheese Polenta
Ingredients:
9 cups water
1 tbsp. salt
2 1/2 cups yellow cornmeal or polenta
1 1/2 cups freshly grated Parmesan
1 1/2 cups whole milk
10 tablespoons (1 1/4 sticks) unsalted butter, cut into pieces
1/3 cup chopped fresh flat-leaf parsley
1 tbsp. finely chopped fresh rosemary
1 tbsp. chopped fresh thyme
3/4 tsp. freshly ground black pepper
Directions:
1. Bring the water to a boil in a heavy large saucepan. Add the salt. Gradually whisk in the cornmeal. Reduce the heat to low and cook until the mixture thickens and the cornmeal is tender, stirring often, about 15 minutes. Remove from the heat. Add the cheese, milk, butter, herbs, and pepper. Stir until the butter and cheese melt. Transfer the polenta to a bowl and serve.