I've always been curious about the no-carb, low-carb diets. Especially when it comes to the creative ways they fake the carbs. One food I've been curious about is using spaghetti squash as the "noodles" in pasta spaghetti. I found my chance to give it a try, although not all the way. In the Spaghetti with Squash recipe, it combines real pasta noodles with the squash noodles. So I thought it would be a nice transition.
Cooking the squash was quite interesting. I've eaten yellow or zucchini squash since practically birth, but I was new to spaghetti squash. It was a three pounder and you nuke it in the microwave. I thought it was funny that the recipe instructs you to pierce the skin with a fork. That skin is tough! I ended up stabbing it with a knife instead. Good way to relieve some stress!
It had a bit of an explosion in the microwave, so apparently I didn't do enough stabbing. Nothing big, but it did sort of pop open in one area. To my surprise, it thoroughly cooked it in about 10 minutes! Talk about fast!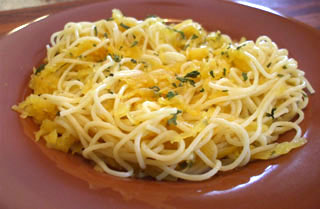 So, how's it taste?
Not too bad, not too good. The texture was definitely not the same as cooked pasta. It had a crunch to it, but was somewhat disguised since it had real pasta in it as well. The spaghetti squash had a really strong, earthy taste that I enjoyed at first, but then it was just too much. This recipe called for butter, Parmesan, garlic, and oregano for flavor. The oregano made the dish a bit too sweet for my liking, so with my next serving I used parsley instead. It made a world of difference. I think I may still give it a try as a substitute for a dish like spaghetti and meatballs. Something a bit spicier and with a tomato sauce might match the squash better than the flavors in this dish.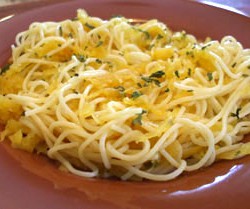 Spaghetti with Squash
Ingredients:
1 medium spaghetti squash (about 3 lb)
4 oz. uncooked spaghetti, broken in half
1/4 cup chopped fresh parsley
2 tablespoons grated Parmesan cheese
2 tablespoons butter or margarine, melted
1 tablespoon chopped fresh or 1 teaspoon dried oregano leaves
1/2 teaspoon garlic salt
Directions:
1. Prick squash with fork; place on microwavable paper towel in microwave oven. Microwave on High 8 minutes; turn squash over. Microwave 8 to 11 minutes longer or until tender. Let stand 10 minutes.
2. Meanwhile, cook and drain spaghetti as directed on package; return spaghetti to saucepan.
3. Cut squash lengthwise in half; remove seeds and fibers. Reserve one half for another use. From other half, remove spaghetti-like strands with 2 forks; reserve shell. Add squash and remaining ingredients to spaghetti in saucepan; toss. Return spaghetti mixture to squash shell to serve.