Last weekend I was at my mom's house and desperately trying to find something to make for dinner. I usually don't have trouble planning meals as doing that for Thanksgiving and Christmas dinners is one of my favorite things. But I couldn't find anything that she and I would agree on. I grabbed one of her cookbooks and flipped through the pages and there were only a few with pictures, which frustrated me, so I quickly gave up. I handed the book to mom and she remarked, "I'll look, I have imagination." Which some may consider snarky, but I thought it was hysterical and thank goodness I inherited that snark. And she was right, her "imagination" led to White Bean & Sausage Pasta for dinner and it was the perfect choice!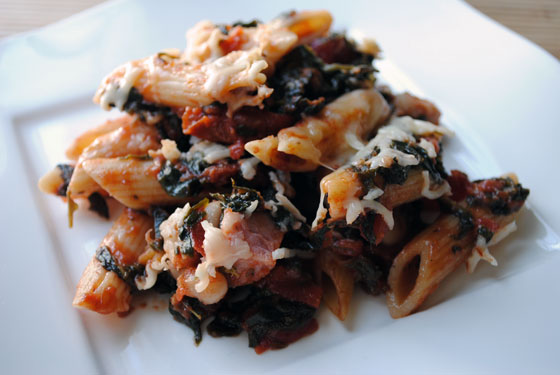 So, how's it taste?
We loved it. It's such a simple dish and we had no idea how huge it would be on flavor. It almost smells like pizza coming out of the oven. Even though it's a hearty meal with the sausage and beans, it not a heavy, rich dish. The undrained diced tomatoes and a bit of tomato paste mixed with red wine make up the sauce, and it's just enough to hold all the ingredients together. The red wine really makes it special. Tender pasta and chunks of sausage and tomatoes mixed with spinach and topped with cheese! I couldn't wait to dive into the leftovers. This is actually one of those dishes where the leftovers taste a bit better than the fresh-out-of-the-oven version. Pair it with a small salad and you've got yourself one fantastic dinner!
This dish is a bit high on calories per serving, but the nutrition information is for six servings. That's a pretty hefty serving size, so if you divide the casserole into eight servings instead, your calories go down to 423 per serving…which ain't too shabby! Although I dare you to not devour the whole dish in one sitting. It's that good!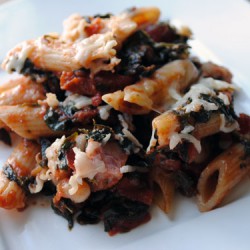 White Bean & Sausage Pasta
Ingredients:
8 oz. dried pasta (penne or rigatoni)
8 oz. cooked kielbasa or or other smoked sausage
1/2 of a 6 oz. can Italian-style tomato paste
1/4 cup dry red wine
1 10 oz. package frozen chopped spinach, thawed & drained
2 14 1/2 oz. cans diced tomatoes with basil, oregano, and garlic, undrained
1 15 oz. can Great Northern beans, drained & rinsed
1/3 cup shredded Parmesan
Directions:
1. Preheat oven to 375F. Cook pasta according to package directions; drain. Return pasta to pan. Cut sausage in half lengthwise and then into slices; set aside. In a small bowl, combine wine and tomato paste.
2. Add sausage, spinach, undrained tomatoes, beans, and tomato paste mixture to the pasta; mix well. Transfer to an ungreased 9x13 pan.
3. Bake, covered, about 25 minutes. Uncover, sprinkle with Parmesan. Bake, uncovered, about 5 minutes or until the cheese is melted.