I'm so excited to share these scones with you. I am scone obsessed, but I have never made any that will get an award in the looks department…until now. Look at how pretty and normal they turned out! I have a lot of ingredients leftover from cookie baking day, so I thought it best to use some in a scone. I found a recipe using cranberry and pistachio and adapted it to create White Chip Cranberry Pistachio Scones. I love the spots of red and green and the white chip icing on top adds the perfect amount of sweetness.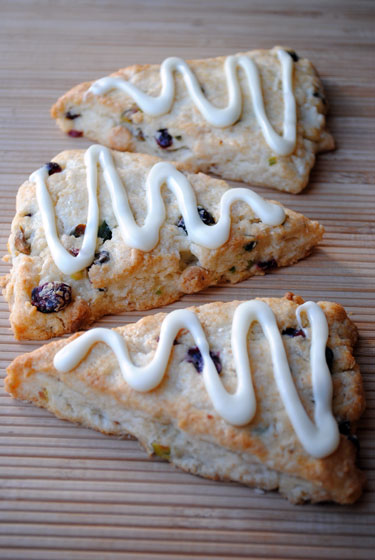 So, how's it taste?
These are my favorite scones so far and that's saying a lot compared to the Pumpkin Scones with Spiced Glaze and my very first attempt with Blueberry Scones with Lemon Glaze. I think I'll be using this scone recipe as the base for other flavors. The texture turned out great. Slightly crispy on the outside and moist and fluffy on the inside. Pretty darn close to the orange scones I love so much from Panera. The cranberries are just enough tart to balance the few morsels of white chips. Pistachios have a unique flavor to me and I liked using those over a pecan or walnut. I chose to pipe a swirl of melted white chips on top instead of a glaze. They really don't need anything on top, but it adds just enough sweet without going overboard. I can't wait to experiment with this recipe and try other flavor combinations.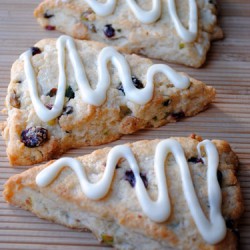 White Chip Cranberry Pistachio Scones
Ingredients:
Scones
2 cups all-purpose flour
1/3 cup sugar
1 tbsp. baking powder
1/2 tsp. salt
1/2 cup cold butter, cut into 1/2-inch cubes
1 cup whipping cream, divided
1/4 cup sweetened dried cranberries
1/4 cup coarsely chopped roasted salted pistachios
1/4 cup white chips
Icing
1/4 cup white chips
1/2 tsp. shortening
Directions:
1. Preheat oven to 450°. Stir together first 4 ingredients in a large bowl. Cut butter into flour mixture with a pastry blender until crumbly and mixture resembles small peas. Add 3/4 cup plus 2 tablespoons cream, cranberries, pistachios, and white chips. Stir just until dry ingredients are moistened.
2. Turn dough out onto wax paper; gently press or pat dough into a 7-inch round (mixture will be crumbly). Cut round into 8 wedges. Place wedges 2 inches apart on a lightly greased baking sheet. Brush tops of wedges with remaining 2 Tbsp. cream just until moistened.
3. Bake at 450° for 13 to 15 minutes or until golden. Cool on wire rack.
4. For the icing, melt the white chips and shortening in a zippered plastic bag on 70% power for 30 seconds. If necessary, microwave in 10-second intervals until completely melted. Squeeze bag (careful it may be hot!) until thoroughly mixed and melted. Snip a corner of the plastic bag with scissors and pipe onto cooled scones.