Pumpkin for breakfast! I am loving trying all these new recipes with pumpkin. I still have a pantry stocked with it (what pumpkin shortage?) and my list keeps getting longer and longer. I couldn't wait to eat these Cranberry Pumpkin Muffins. Sweet muffins with crunchy pecans and bites of tangy cranberries. Who wouldn't want that with a cup of coffee every morning?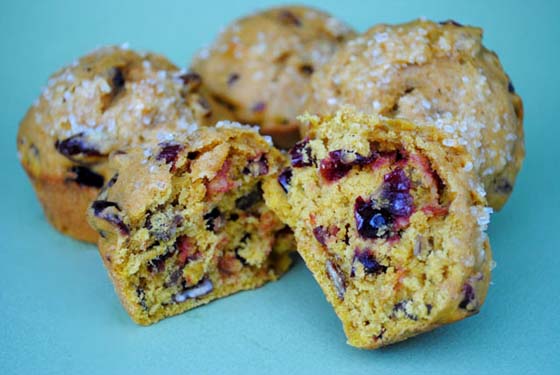 So, how's it taste?
They smelled ah-may-zing while they were baking. Like the best sweet treat that has ever been baked in my oven. I was salivating the whole time. The first one I tasted was insanely good. Hot from the oven, delicate, filled with a sweet pumpkin taste, then bits of pecans, and a delicious burst of tart cranberries. The cinnamon and ginger add a nice warmth and don't you dare skip the coarse sugar on top! The muffins are so moist and soft, and then you bite into those crunchy bits of sugar. It's so good! And it goes incredibly well with a cup of coffee. Sounds like the breakfast of champions to me!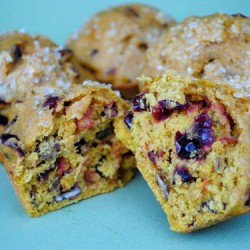 Pumpkin Cranberry Muffins
Ingredients:
2 cups all-purpose flour
3/4 cup sugar
3 tsp. baking powder
1 tsp. ground cinnamon
1/2 tsp. ground ginger
1/4 tsp. salt
1 cup canned pumpkin (not pumpkin pie filling)
1/2 cup vegetable oil
2 eggs
1 cup sweetened dried cranberries
1/2 cup chopped pecans
Coarse sugar, if desired
Directions:
1. Heat oven to 400°F. Grease 12 regular-size muffin cups with shortening or line with paper baking cups.
2. In large bowl, mix flour, sugar, baking powder, cinnamon, ginger and salt. Stir in pumpkin, oil, eggs, cranberries and pecans just until moistened. Divide batter evenly among muffin cups. Sprinkle coarse sugar evenly over batter in each cup.
3. Bake 20 to 25 minutes or until toothpick inserted in center comes out clean. Remove muffins from pan to cooling rack. Serve warm.