A bite of a scrumptious Pumpkin Scone with Spiced Glaze was the first thing I tasted in 2011. What a way to ring in a new year right? No, I didn't carry one in my purse while I was out on the town. I purposely saved one for my January 1st breakfast. If only every day could start out (and stay) this sweet and delicious.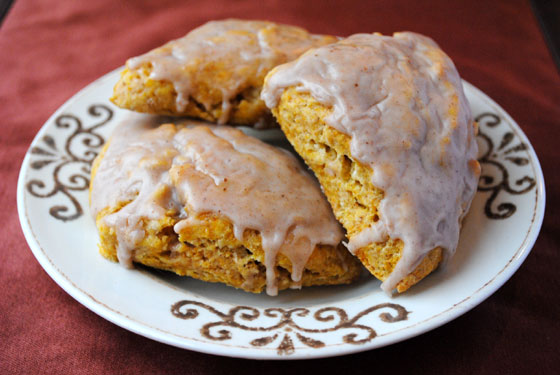 So, how's it taste?
It's perfect. This scone recipe will top my list every year I get in the mood for pumpkin. But who needs to wait until Fall? I say eat pumpkin year round. I went a little overboard last Fall and filled my pantry with canned pumpkin, so I had tons of recipes bookmarked and I just don't want to wait until this year is almost over to eat or share them with you. So I'm officially ending the thought that pumpkin is a seasonal flavor. One bite of these scones and you'll agree with me. The pumpkin keeps the scones moist and isn't very sweet, so the spiced glaze is a great compliment. I misread the directions thinking that the recipe creator was offering the choice of a powdered sugar glaze or the spice glaze. So I skipped the powdered glaze part altogether! Honestly it doesn't need it. I think it would have been way too much glaze to have both. The spice glaze makes plenty to cover the entire scone and gives it that touch of sweetness and kick of spice. Make sure these make your list of breakfast treats to make this year.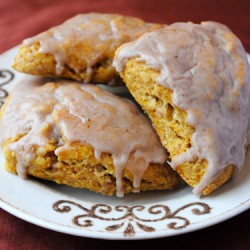 Pumpkin Scones with Spiced Glaze
Ingredients:
Scones:
2 cups all-purpose flour
7 tbsp. granulated sugar
1 tbsp.baking powder
1/2 tsp. salt
1/2 tsp. ground cinnamon
1/2 tsp. ground nutmeg
1/4 tsp. ground cloves
1/4 tsp. ground ginger
6 tbsp. cold butter
1/2 cup canned pumpkin
3 tbsp. half-and-half
1 large egg
Powdered sugar glaze:
1 cup plus 1 tbsp. powdered sugar
2 tbsp. milk
Spiced glaze:
1 cup plus 3 tbsp. powdered sugar
2 tbsp. milk
1/4 tsp. ground cinnamon
1/8 tsp. ground nutmeg
1 pinch ground ginger
1 pinch ground cloves
Directions:
1. Preheat the oven to 425 degrees F. Line a baking sheet with parchment paper; set aside.
2. Combine flour, sugar, baking powder, salt, cinnamon, nutmeg, cloves, and ginger in a large bowl. Use a fork to cut the butter into the dry ingredients until mixture is crumbly and no chunks of butter are obvious; set aside.
3. In a separate bowl, whisk together the pumpkin, half-and-half, and egg. Fold wet ingredients into dry ingredients, and form the dough into a ball. Pat out dough onto a lightly floured surface and form it into a 1-inch thick rectangle about 3 times as long as wide. Use a large knife or a pizza cutter to slice the dough twice through the width, making three equal portions. Cut each of the portions in an X pattern (four pieces) so you end up with 12 triangular slices of dough. Place on prepared baking sheet. Bake for 14-16 minutes, or until light brown. Place on wire rack to cool.
4. To make the powdered sugar glaze, mix the powdered sugar and milk together until smooth. When scones are cool, use a brush to spread plain glaze over the top of each scone.
5. To make the spiced glaze, while the powdered sugar glaze is firming, combine all of the ingredients for the spiced glaze. Drizzle over each scone and allow the icing to dry before serving (about an hour).