Happy New Year! Cheers to you and yours and here's to looking forward to another great year! If you happen to be looking for a last minute appetizer to ring in the new year, try these Gorgonzola, Date and Walnut Tartlets. They are a cinch to make, but taste super fancy like you spent all day on them.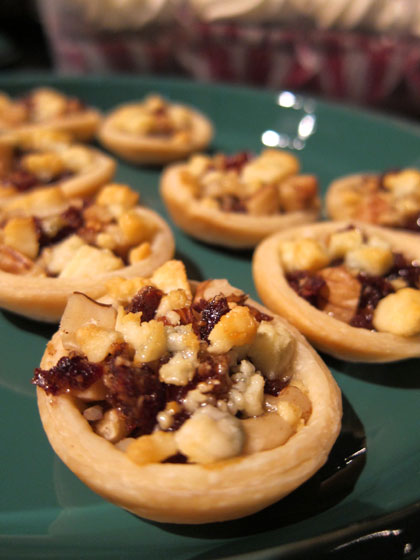 Photo courtesy of Beth from Eat. Drink. Smile.
So, how's it taste?
I am a blue cheese lover (well, any cheese for that matter) and the combination of gooey cheese, sweet dates, crunchy walnuts, and a hint of spice all drizzled with warm honey is sinful. Completely and utterly sinful. The tartlets are easy to make with a refrigerated pie crust and you can substitute figs for the dates if you like. They are the perfect bite-sized appetizer for a party. I brought these to a food blogger holiday shindig, so talk about pressure to bring something tasty! I was thrilled when fellow foodie Beth from Eat. Drink. Smile. liked them so much she asked for the recipe and is making them for her New Year's Eve party! She was even nice enough to snap a photo of the tartlets for my blog.
Have a very happy and safe night ringing in 2011 everyone!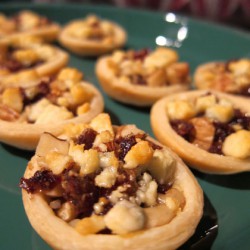 Gorgonzola, Date and Walnut Tartlets
Ingredients:
1 box refrigerated pie crusts, softened as directed on box
6 dried figs or pitted dates, coarsely chopped (1/3 cup)
1 tbsp. packed dark brown sugar
1/8 to 1/4 tsp. ground cinnamon (I use 1/4)
1/4 cup walnuts, chopped
1/2 cup crumbled Gorgonzola cheese
1 tbsp. honey
Directions:
1. Heat oven to 425°F. Unroll pie crust on flat surface. Using 2-inch cookie cutter, cut 24 rounds from pie crust, rerolling crust scraps if necessary. Gently press 1 round in bottom and up side of each of 24 ungreased mini muffin cups.
2. In small bowl, mix figs, brown sugar, cinnamon and walnuts. Spoon slightly less than 1 teaspoon fig mixture into each cup. Break up any larger pieces of cheese. Top each tartlet with slightly less than 1 teaspoon cheese.
3. Bake 7 to 11 minutes or until bubbly and golden brown. Remove tartlets from pan to serving plate. Drizzle tartlets with honey. Serve warm.