Last week I was craving chili something awful. I had a bunch of turkey in my freezer that I had fried and was itching to make a White Turkey Chili. I found this Williams-Sonoma recipe and couldn't get the addition of cornmeal out of my mind. I had to make it. Plus any reason to add cheese and a dollop of sour cream to my food is good enough for me!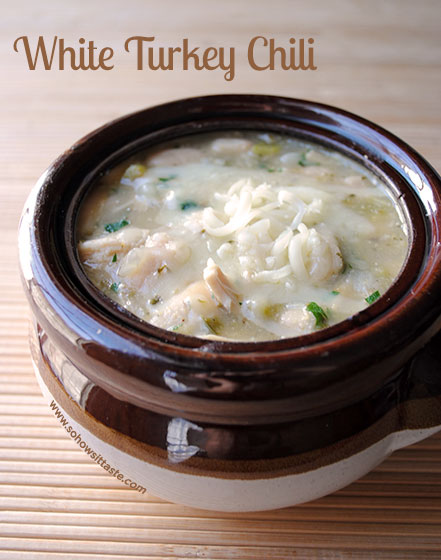 So, how's it taste?
So good and so perfect. This is exactly what I wanted in a white chili. If turkey is not your thing, or you already have chicken, you can easily use that. There's just enough heat from the jalapeno and pepper jack cheese. The cannellini beans add to it's creaminess and texture. You'll note in my ingredients list that I used whole canned green chiles, not diced. This revelation has been life-changing! I always bought the diced and eventually got to where I left them out if they were in a recipe. Why? Because I felt like they turned into little bits of green chile skins and had zero flavor. Gross. The original Williams-Sonoma ingredient list called for Anaheim chiles in the can whole, so I bought my green chiles whole for the first time ever. Y'all. They were so different and so much better! In that tiny can were three whole chiles. Perfectly peeled. (I know the diced can reads that they're peeled, but it's full of lies.) I easily chopped them myself and added them to the pot of chili. Whoa. They had flavor! I will never buy the pre-diced cans again. Now I feel like I need to remake every recipe I've ever made that included diced green chiles. Oh, I almost forgot about the cornmeal! It's what thickens this chili and adds a little something, but it's not grainy. A bit of it stuck to the bottom of my pan during cooking, but that was ok. This is the best meal to make when you're craving a white chili.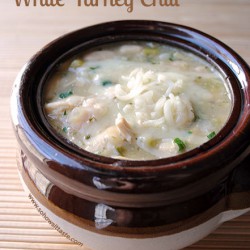 White Turkey Chili
Ingredients:
2 tbsp. olive oil
1 large yellow onion, diced
Salt and freshly ground pepper, to taste
2 tsp. ground cumin
5 garlic cloves, minced
1 jalapeño, seeded and minced
3 cans (each 4 oz.) whole green chiles, chopped (do not use diced)
32 oz. low-sodium chicken broth, divided
1 lb. diced cooked turkey
3 cans (each 15 oz.) cannellini beans, drained and rinsed
1 tbsp. dried oregano
1/3 cup minced fresh cilantro
1/4 cup cornmeal
Pepper Jack cheese, shredded, optional
Sour cream, optional
Lime wedges, optional
Directions:
1. In a large Dutch oven over medium heat, warm the olive oil. Add the onion, season with salt and pepper and cook, stirring occasionally, until softened, 5 to 7 minutes. Add the cumin, garlic, and jalapeño and cook, stirring, for 30 seconds. Stir in the chilies and 3 1/2 cups of the broth. Stir in the turkey, beans, oregano, and cilantro.
2. Put the cornmeal in a small bowl and slowly whisk in the remaining 1/2 cup of the broth. Stir the cornmeal mixture into the turkey mixture. Cover and cook on medium for 15 minutes, stirring frequently. Reduce heat to low and cook an additional 15 minutes, stirring frequently.
3. Ladle the chili into bowls. Serve with cheese, sour cream, and lime wedges, if desired.