If you've been following my blog, you know how lately I've been watching my calories and eating more healthy. I'm thrilled to be part of the OXO Blogger Outreach Program and help them spread the word about some of their healthy eating tools. The tool I got to try was their Salad Dressing Shaker. I was really excited about this one because the salad dressing container I own isn't exactly going to win any awards for ease of use. I chose to make Creamy Apple Tarragon Dressing for two reasons. One, I wanted something with bulky ingredients to really test the new shaker and I wanted a low calorie dressing with lots of flavor. Read on to find out how it worked out!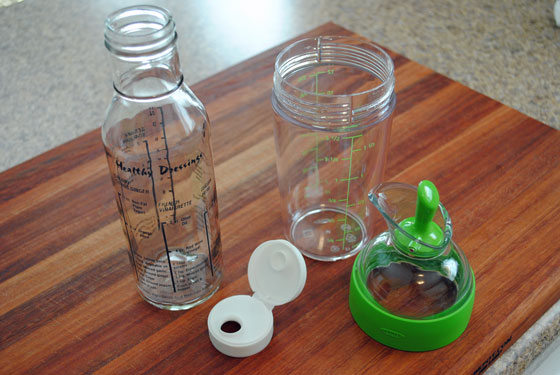 You can see how my salad dressing shaker on the left is small and although the mouth is wide, it's hard to stuff bulky ingredients like sour cream and yogurt into the container. The lid doesn't stay very tight so shaking has to be done very gingerly. The OXO shaker on the right has a huge opening and a nice pouring spout.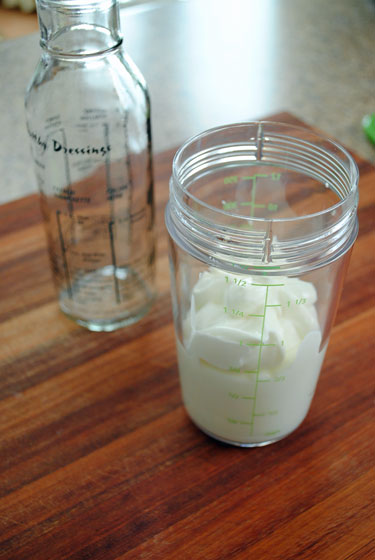 I didn't attempt to spoon the yogurt and the sour cream in my old shaker. Look how much the OXO shaker holds! I had no problem getting both ingredients in the OXO shaker.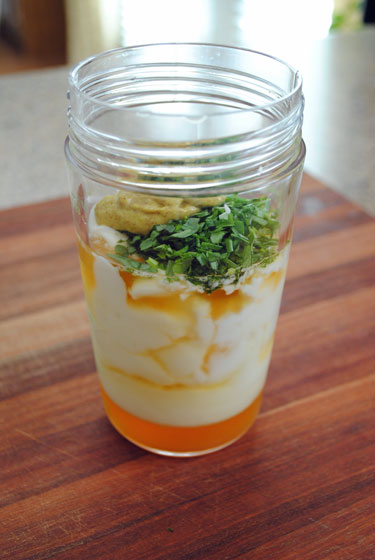 Adding the rest of my ingredients was a cinch. I scraped the herbs right off my big chopping knife into the shaker and squeezed the mustard right in. Getting those herbs in my old container would have made a huge mess.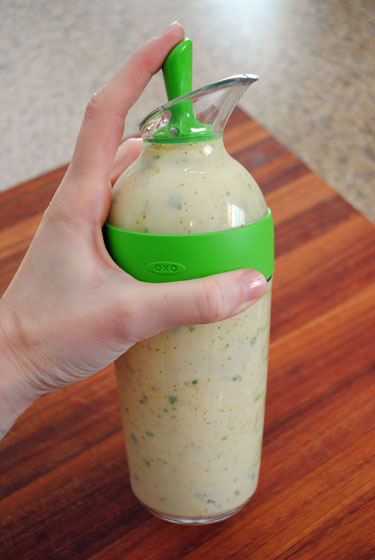 Now for the fun part! Shake! Shake! Shake! The top screws on tight and the nozzle on the top forms a nice seal. No worries about splashing dressing around the kitchen here.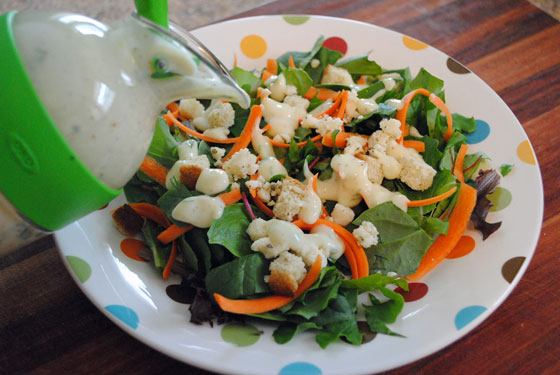 Flip the nozzle and you're ready to pour. My only complaint about the OXO shaker is that with thick dressings like this one, it comes out all around the nozzle. You can see in the picture where it's coming out where it's supposed to under the spout, but also coming out the top. I think with thinner dressings, this wouldn't be a problem since you wouldn't have to turn up the shaker so much. I will say, the way OXO has designed the nozzle, it makes for easy cleaning. I closed the nozzle and ran it under the sink really quick to wash off the dressing that had gotten out and ta da! It was clean and ready to go back in the fridge. Now on to the dressing!
So, how's it taste?
Great flavor for such a low calorie dressing! The apple gives it a nice freshness and the tarragon is wonderful. I really fell in love with fresh tarragon back when I used it in a pasta dish. It's got a slight licorice flavor and between the apple and spicy mustard, this is a winner. You'd never guess the yogurt and sour cream weren't the full fat versions. It does make quite a thick dressing, so if you'd like it thinner, try adding a little milk or water.
Now it's giveaway time! The nice folks over at OXO want you to have a Salad Dressing Shaker, too! I'm giving away one OXO Salad Dressing Shaker like you see in the pictures above to one lucky reader.
Mandatory to enter: All you need to do is comment on this post and tell me what you're doing (or what you'd like to start doing) to eat more healthy!
Optional entries: For up to two additional entries, do one or both of the following and leave a separate comment telling me you did so.
1. Follow @sohowsittaste and @OXO on Twitter and tweet the following: "I just entered to win an @OXO Salad Dressing Shaker from @sohowsittaste! You can too! Enter here: http://bit.ly/appletarragon"
2. Like So, How's It Taste? and OXO on Facebook.
I'll randomly select the winner on Wednesday, May 9th at noon Central. Please make sure you enter a valid email address as an alternate winner will be chosen if I don't hear from you within 48 hours. Good luck!
Congratulations to comment #37 from Kelly!
I hope you enjoy your new OXO Salad Dressing Shaker!
Winner chosen using Random.org
Disclosure: OXO sent me a free Salad Dressing Shaker, but I was not compensated for this post.
All opinions expressed here are solely my own.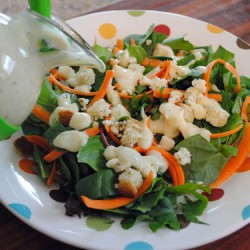 Creamy Apple Tarragon Dressing
by TLC Cooking
makes about 1 cup
per 2 tbsp: 25 calories, 0.8g fat, 2.9g carbs, 0g fiber, 1.4g protein
Ingredients:
1/2 cup plain, fat-free yogurt
1/4 cup low-fat sour cream
1/4 cup frozen apple juice concentrate, thawed
1 tbsp. spicy brown mustard
1 tbsp. fresh tarragon, minced
salt and pepper to taste
Directions:
1. Mix all ingredients in a salad dressing shaker. Shake to combine. Season with salt and pepper to taste.