I had good intentions, no really I did. See here's my process. I go in a cycle of "I need to eat healthy!" and then "Screw it, I need cake!" Depending on my mood, I'll sit in my living room floor with tons of cookbooks surrounding me and one by one search for recipes I'd like to make during the coming week. It's one of my favorite things to do. I try so hard to be good. Checking the calorie count and thinking about how I'm going to eat three healthy meals a day AND get in a run on the treadmill. It starts out so beautifully. I loved every bite of this Fried Rice with Vegetables. It's a huge portion for only 200 calories, sounds awesome right? Well…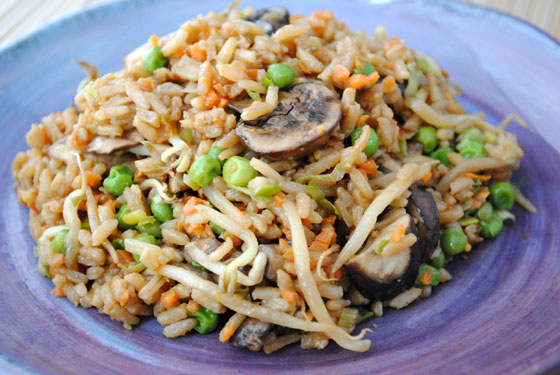 So, how's it taste?
It was awesome, deliciously awesome! I had never cooked with bean sprouts before and didn't realize how much flavor they add to fried rice. I would identify its flavor as nutty and I love the crunch. The carrots added a zip of color and I liked how it's packed with other veggies like mushrooms and peas. I was nervous it would be bland seeing as it's so low in calories and the only sauce is soy sauce. That's where the bean sprouts, green onions, garlic, and ginger come in. I was shocked at how close this recipe is to fried rice from a restaurant.
So what happened? How did this calorie-conscious meal turn ugly? Those damn bean sprouts are to blame. I hate to waste food and this recipe only used 1/2 of my container of bean sprouts. It was so tasty, I wanted to make a second batch a few days later. Who knew how fragile bean sprouts were? In a few days, they were a slimy, gross mess. I still had cooked rice, carrots, mushrooms, and pretty much everything else to make it again…but no sprouts. I decided to bulk up on the other veggies and then I remembered this post from Taylor, Lindsay's husband over at Love & Olive Oil. Hmm, bacon…that's in my fridge. Why not?!
I cooked the bacon in a skillet and reserved the drippings. I followed my original directions and cooked the veggies I had in the bacon grease. I doubled the carrots and added a bit more than a 1/2 cup of the peas. When it was time to fry the rice, you guessed it, I used bacon grease! I finished the second batch by crumbling in the bacon. It was slap-yo-momma good! So there you have it. I turned a healthy, low-calorie meal into an artery-clogging, smorgasbord of bacon. I blame the bean sprouts…and maybe Taylor. Not me and my lack of restraint, of course. Now where are my running shoes…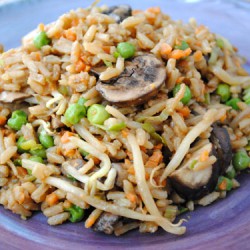 Fried Rice with Vegetables
Ingredients:
1 cup fresh bean sprouts
1/2 cup shredded carrot
1/2 tsp. grated gingerroot
1 garlic clove, minced
1 cup fresh sliced mushrooms
1 tbsp. oil
2 cups cold cooked regular long-grain white rice
2 tbsp. soy sauce
1/2 cup frozen sweet peas, thawed
1/4 cup sliced green onions
Directions:
1. Spray medium nonstick skillet or wok with nonstick cooking spray. Heat over medium heat until hot. Add bean sprouts, carrot, gingerroot, garlic, and mushrooms; cook and stir 1 minute. Remove vegetables from skillet; cover to keep warm.
2. In same skillet, heat oil until hot. Add cooked rice and soy sauce; cook and stir 4 minutes. Add peas, onions, and bean sprout mixture; stir gently to combine. Cook until thoroughly heated. If desired, serve with additional soy sauce.