I made this breakfast a few months back when my friend Carol was in town interviewing for a job. You may remember from the Breakfast Crescent Pizza that I have a streak going. I apparently serve job-winning breakfasts. I'm happy to report that the streak is still alive! Carol got the job and will be moving to Nashville in a few days! (I also made her these Raspberry Cornmeal Muffins.) What's also great about this breakfast? It's figure-friendly! Yep, only 220 calories per serving and that's hard to believe because this is a hearty breakfast. Another plus? You can prepare it the night before.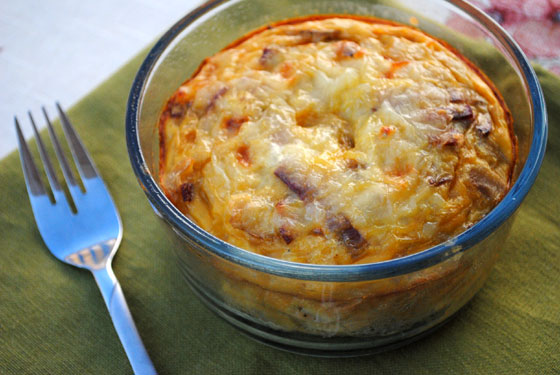 So, how's it taste?
I'm usually not crazy about turkey bacon on its own, but it works very well in this recipe to add a ton of flavor without the guilt. What really caught my eye is all the cheese that goes into the casserole. Ricotta, Swiss, and Parmesan! How in the world is this figure-friendly? I was a little worried that I wouldn't feel full since a serving is 1/2 a casserole and not the whole dish. With the eggs and potatoes, it was plenty! I enjoyed this dish so much, I made it several more times for a quick breakfast.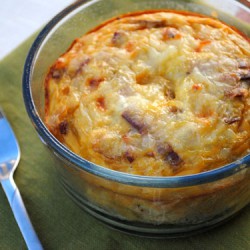 Bacon, Egg, and Cheese Casserole
Ingredients:
6 slices turkey bacon, cut crosswise into ¼-inch wide strips
12 oz. bag frozen hash brown potatoes (or Southern style)
1 onion, chopped
3 large eggs
3 egg whites
3/4 cup part-skim ricotta cheese
2/3 cup shredded Swiss cheese
3 tbsp. grated Parmesan cheese
3 tbsp. all-purpose flour
1/2 tsp. baking powder
1/4 tsp. salt
1/4 tsp. pepper
pinch cayenne
Directions:
1. Preheat the oven to 375. Spray three 2-cup oval baking dishes, casseroles, or ramekins with nonstick spray.
2. Spray a nonstick skillet with nonstick spray and set over med-high heat. Add the bacon, potatoes, and onion; cook, stirring, until the potatoes are tender and golden, about 6 minutes. Remove the skillet from the heat; let cool slightly.
3. Meanwhile, beat the eggs and egg whites in a large bowl. Add the ricotta, â…" cup of the Swiss cheese, the Parmesan, flour, baking powder, salt, pepper, and cayenne, stirring until blended. Stir in the potato mixture and pour evenly into the baking dishes. Sprinkle evenly with the remaining â…" cup Swiss cheese. Bake until the casseroles are slightly puffed and golden and the cheese is melted, 20-25 minutes.
For night before prep: Prepare the dish until the baking step. Cover and store overnight in the refrigerator. You'll need to allow more baking time for the casseroles to become puffed and golden.