Summer, of course, is always a great time to grill. I'm not a master of the grill by any means, so I love when I go to my mom's house and she can take over. One of these days I'm going to get my learnin' on, but for now I enjoy tackling the sides (like this Ranchero Corn) and letting her handle the main dish. This Beer-Brined Barbecue Chicken was something I was really looking forward to. Meat that has been brined is so tender and flavorful, plus this one gets slathered in a homemade barbecue sauce while it grills.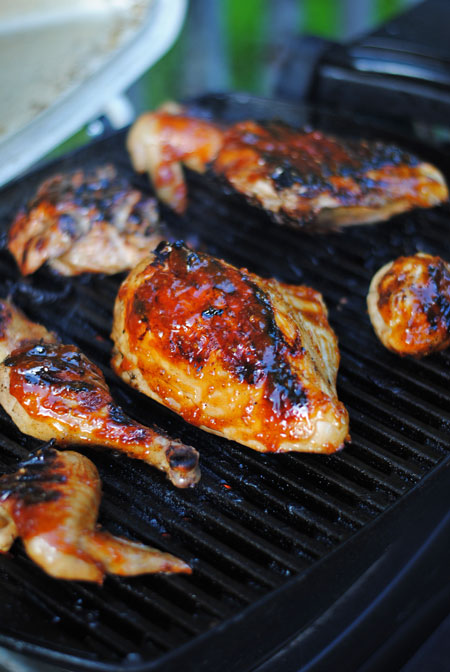 So, how's it taste?
The brining did not disappoint! The chicken was really tender, and although I couldn't identify the specific elements of the brine, it just plain tasted good. The recipe calls for skin-on, bone-in chicken, and I wanted to follow that since I know bone-in chicken can be more tender when cooking. However, we both decided next time, we'd like to stick with boneless, skinless chicken breasts. We're not big skin eaters and that's where all the barbecue flavor was. I really wish I had made extra of the barbecue sauce to serve on the side because it was out of this world good. Like I want to pour it in a cup and drink it kind of good! One of my pet peeves with sauces and grilling is that the sugar in the sauce really burns. This chicken turned out a little blacker than I'd like, but luckily it was on the skin and I could just peel that off. The drummies and thighs were crazy tender and delicious. Just wish I had more of that sauce to sop it up with!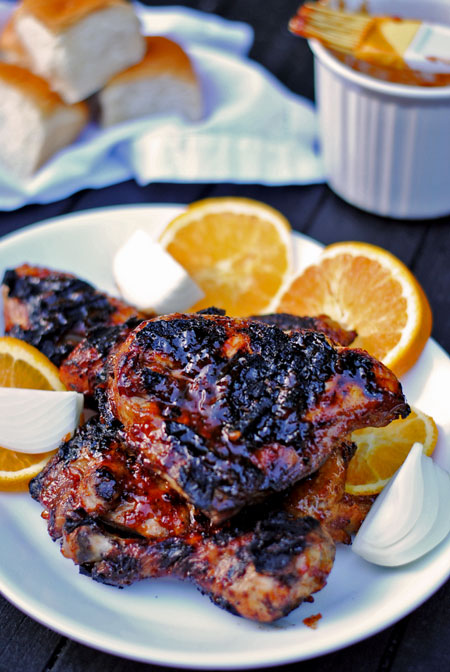 Next time, I think I'll brine the chicken and grill it without the barbecue sauce, or maybe add a little sauce at the very last minute. I'll serve most of the barbecue sauce on the side. That stuff was way too good to get burned off on the grill. I would definitely take advantage of making the barbecue sauce the day before, too. This recipe is easy, but a bit time consuming making the sauce the day of if you're also making sides and other things.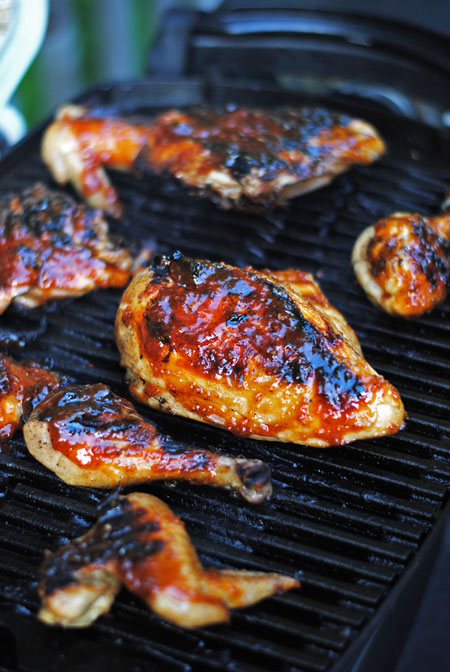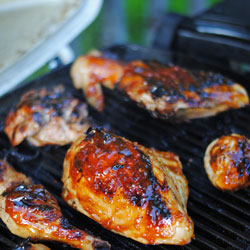 Yield: 8 servings
Total Time: 1 hr (plus overnight brining)
Beer-Brined Barbecue Chicken
Ingredients:
Brine
3 (12 oz.) cans amber or bock beer
1/3 cup kosher salt, plus more for sprinkling
1/3 cup granulated sugar
2 tbsp. hot sauce
4 bay leaves
4 cups water
6 lbs. assorted skin-on, bone-in chicken pieces
Barbecue Sauce
Juice of 2 large oranges
1/4 cup apple cider vinegar
1/2 small onion, finely chopped
4 garlic cloves, finely chopped
1/3 cup ketchup
1/3 cup packed dark brown sugar
1/3 cup honey
1 tbsp. Worcestershire
1 tbsp. chili powder
Vegetable oil, for the grill
Directions:
1. Brine the chicken: Combine 1 can of beer, salt, granulated sugar, hot sauce, and bay leaves in a very large bowl and whisk until the salt and sugar dissolve. Add the remaining 2 cans of beer, 4 cups water, and the chicken. Cover and refrigerate overnight.
2. Make the barbecue sauce: Combine the orange juice, vinegar, onion, garlic, ketchup, brown sugar, honey, Worcestershire, and chili powder in a small saucepan. Bring to a boil, then reduce the heat to medium low and simmer, stirring occasionally, until slightly thickened, about 20 minutes. Let cool slightly, then puree in a blender until smooth. (The sauce can be made up to one day ahead; cover and refrigerate.)
3. Preheat a grill to medium low and brush the grates with vegetable oil. Remove the chicken from the brine and pat dry with paper towels. Lightly season the chicken with salt, then arrange on the grill, skin side up. Cover and cook until marked, about 12 minutes per side. Continue cooking, flipping and basting the chicken with the barbecue sauce every 3 to 4 minutes (keep covered in between), until a thermometer inserted into the center of a breast registers 165 degrees, about 15 more minutes. Transfer to a platter and let rest 5 minutes before serving.
Source: Food Network magazine, July/August 2014