Sure chicken can sometimes be boring, but not when you grill it and top with an amazing sauce. A good one to try is Pineapple-Glazed Chicken Breasts. It's an easy sauce to make and there's some leftover for spooning over the top of the finished chicken. It's a fantastic way to dress up chicken on the grill.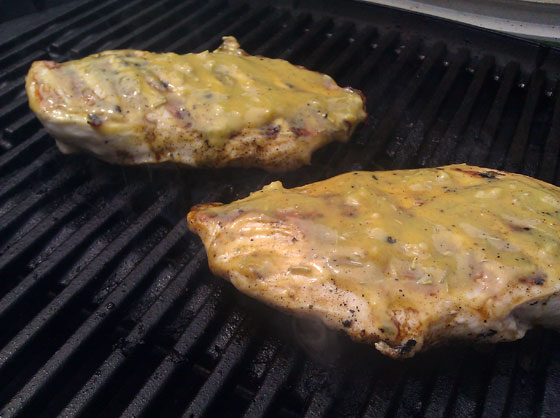 So, how's it taste?
It's pretty delicious for boring ol' chicken. Citrus and chicken are a great pairing and I like the addition of piney rosemary. It's not too strong though, the Dijon and pineapple take center stage. I couldn't find pineapple juice concentrate, so we used pineapple-orange juice concentrate instead. I think the orange added just a touch of sweet to cut through the tang of the pineapple and Dijon. I like this sauce with grilled chicken because it didn't seem to burn as much as some sugary sauces can. You know I'm a fan of condiments, so I loved having the extra sauce to serve over the finished chicken.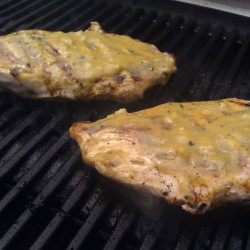 Pineapple-Glazed Chicken Breasts
Ingredients:
2 tbsp. Dijon mustard
2 tbsp. frozen (thawed) pineapple-orange juice concentrate
1 clove garlic, minced
1 tbsp. chopped fresh rosemary or 1 tsp. dried rosemary leaves
1/4 tsp. salt
1/8 tsp. pepper
2 boneless skinless chicken breast halves (5 oz. each)
Directions:
1. Heat gas or charcoal grill. In small bowl, mix mustard and juice concentrate; reserve 2 tablespoons. Into remaining mixture, stir garlic, rosemary, salt, and pepper; set aside.
2. When grill is heated, rub chicken breast halves with oil. Place chicken on gas grill over medium heat or on charcoal grill over medium coals; cover grill. Cook 5 minutes.
3. Turn chicken; brush with rosemary mixture. Cover grill; cook 6 to 8 minutes longer, brushing chicken occasionally with rosemary mixture and turning chicken once, until chicken is fork-tender and juices run clear. Discard any remaining rosemary mixture.
4. Place chicken on serving plates. Spoon reserved 2 tablespoons mustard mixture over chicken.