Last week I discovered a meal that I've been raving about ever since. Everything you see on the plate below was lip-smacking good and the best part is that it comes to 420 calories! For some reason I put everything on this ginormous plate to photograph it, so don't be mislead by it looking like small portions. It's a lot of food (and the salad in the picture is about 1/3 of a serving size). I'll start with the Baked Sage Breaded Pork Chops.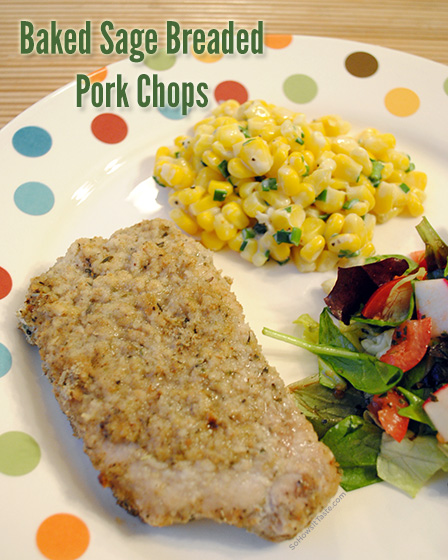 So, how's it taste?
These were great as the main dish as I often forget how versatile pork chops can be. So many different ways to serve them. I still kind of stink at baking them though, so mine were a little on the dry side. I think I'll start putting in a dish of water the next time I bake them, which is a trick I accidentally learned from making this Roasted Pork Tenderloin. Even being a bit on the dry side, I could still appreciate the lovely flavor. Sage is front and center, and goes so well with pork. I didn't have Italian breadcrumbs so I just used plain and added my own Italian dried herbs. I couldn't really taste the Parmesan, so next time I'd like to add it on top to the finished chop instead.
Next up, I'll be sharing with you the recipe for the most incredible corn side dish ever and a surprisingly delicious salad!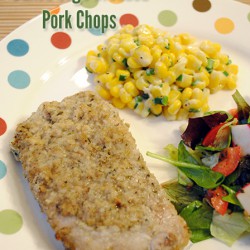 Yield: 4 servings
Prep Time: 15 min
Cook Time: 35 min
Total Time: 55 min
Baked Sage Breaded Pork Chops
Ingredients:
1/4 cup Italian bread crumbs
2 tbsp. grated Parmesan cheese
1 tsp. dried sage (not ground)
2 tbsp. low-fat mayonnaise
1 egg white
4 (4 oz.) boneless pork loin chops
1 tbsp. all-purpose flour
Directions:
1. Heat oven to 375F. Spray 12x8-inch (2 quart) glass baking dish or shallow pan with nonstick cooking spray. In shallow bowl, combine bread crumbs, cheese, and sage; mix well. In another shallow bowl, combine mayonnaise and egg white; beat until smooth.
2. Coat each pork chop with flour; dip each in mayo mixture, coating both sides. Coat both sides of chops with bread crumb mixture. Place in prepared baking dish. Spray each chop lightly with cooking spray.
3. Bake for 35 to 40 minutes or until pork is no longer pink in center.
per serving: 240 calories, 12g fat, 7g carbs, 0g fiber, 27g protein