Y'all…I seriously went nuts over these Chicken, Kale, and Mushroom Chimichangas. I mean I figured they'd be tasty, but I had no idea just how tasty a chimichanga could be, especially if it's not deep-fried and smothered in cheese and sour cream. I have the worst time at Mexican restaurants holding back on the sour cream. It's my Kryptonite with any Mexican food. What lured me into this recipe was of course, it's low calorie, but I also had flour tortillas I needed to use and that avocado cream on top was calling my name!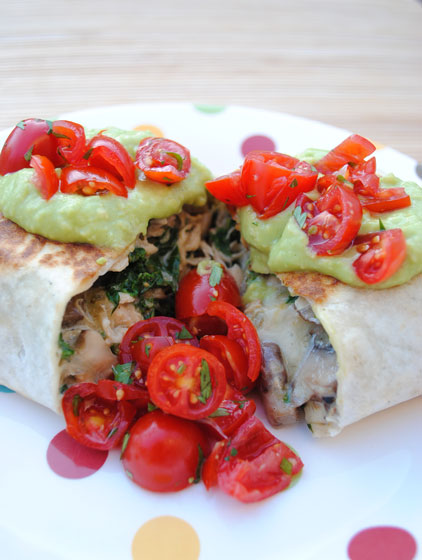 So, How's It Taste?
A million times exceeded my expectations. I didn't miss the fried tortilla, the sour cream, or the melty cheese. I felt like I was eating something really sinful. Full disclosure, this was a bit higher in calories than I normally like because I used 10-inch tortillas instead of 8-inch. I didn't want to buy more tortillas since I already had some. So since they were bigger, I needed more filling. My chimichangas were huge, so the 8-inch version would be just enough. No complaints here though. I stuffed my face! The chicken filling on the inside is creamy from just a touch of cream cheese and has a ton of flavor. It was quite a process getting the filling together and I felt like I dirtied every dish in my house, but it was worth it! I'm still not sure if I liked the kale or not. It holds its crunch and I'm not sure I liked the texture. Spinach, broccoli, and asparagus would be fantastic subs.
That avocado cream on top made me completely forget about sour cream and queso. It's just the perfect creamy consistency to counter the crunchy tortilla. The tomato salad brought a nice punch of freshness. This meal will be in my rotation often. Without the avocado cream and tomatoes, the chimichangas freeze really well. Make a big batch and have them whenever you get a craving!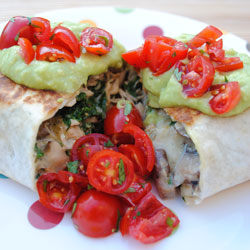 Chicken, Kale, and Mushroom Chimichangas
Ingredients:
2 cups unsalted chicken stock (I used regular chicken broth)
2 (6 oz.) skinless, boneless chicken breast halves (I used 3/4 lb. chicken tenderloins)
3/4 cup salsa verde (I used Frontera tomatillo salsa)
2 oz. 1/3-less-fat cream cheese
1/2 tsp. ground cumin
6 tbsp. chopped fresh cilantro, divided
1 tbsp. olive oil
1 cup chopped onion
4 garlic cloves, minced
8 oz. presliced cremini mushrooms
2 cups chopped kale
1/4 tsp. black pepper
8 (8-inch) flour tortillas (I used 10-inch flour tortillas)
3 oz. preshredded reduced-fat 4-cheese Mexican blend cheese (about 3/4 cup)(I used 1/2 cup)
Cooking spray
3/4 cup ripe peeled avocado, chopped
3 tbsp. 1% low-fat milk (I used almond milk)
2 tbsp. fresh lime juice, divided
2 cups chopped grape tomatoes
Directions:
1. Combine stock and chicken in a saucepan over medium heat; bring to a simmer. Cook 8 minutes or until done. Remove chicken with a slotted spoon; let stand 10 minutes. Shred chicken; set aside. Drain cooking liquid through a sieve over a bowl, reserving liquid; discard solids. Set aside 2 tablespoons liquid.
2. Return remaining cooking liquid to pan. Add salsa verde; bring to a boil. Cook until reduced to 1 cup (about 11 minutes). Reduce heat to low. Add cream cheese and cumin; stir with a whisk until smooth. Remove from heat; stir in chicken and 1/4 cup cilantro.
3. Heat a large skillet over medium heat. Add oil to pan; swirl to coat. Add onion, garlic, and mushrooms; sauté 8 minutes or until tender. Add kale, black pepper, and reserved 2 tablespoons cooking liquid. Cook 2 minutes or until kale wilts, stirring occasionally. Add kale mixture to chicken mixture. Divide chicken mixture evenly among tortillas. Top each with about 1 1/2 tablespoons cheese (I used 2 tablespoons per chimichanga). Fold in edges of tortilla; roll up.
4. Heat a large nonstick skillet over medium-high heat. Coat all sides of each chimichanga evenly with cooking spray. Cook 6 to 8 minutes, turning to brown on all sides.
5. Combine avocado, milk, and 1 tablespoon lime juice in a mini food processor; process until smooth.
6. Combine tomatoes, remaining 2 tablespoons cilantro, and remaining 1 tablespoon lime juice in a bowl; toss. To serve, arrange 1 chimichanga on each of 8 plates. Top with 1 1/2 tablespoons avocado cream and about 1/4 cup tomato salad.
per 8-count serving: 296 calories, 10.3g fat, 20g protein, 32g carbs, 6g fiber
per 4-count serving using my substitutions: 451 calories, 20.3g fat, 25.9g protein, 42.3g carbs, 8.4g fiber