This Crunchy Ramen Chicken Salad brings back so many good memories for me. After almost five years of blogging, I really don't know why it has taken me so long to post about it. I first made this salad about 15 years ago when I was just getting started with cooking. If you've read my About page, you know that this all started when my mom bought me one of those Betty Crocker small magazines that you see in checkout lanes. This recipe wasn't in that first one, but a couple of issues later. I instantly fell in love with this salad and must've made it a bajillion times. Then, like so many of my beloved recipes, it kind of dropped off the radar. I'm slowly going back through those favorites so I can make sure they get shared with you and find a home on the blog.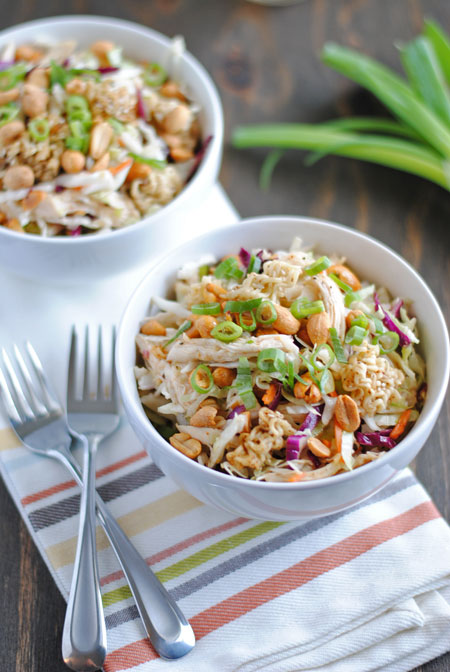 So, how's it taste?
I'm really not kidding when I say it's crunchy. You'll be chomping down big time on all the crunchy stuff in this salad. I'm a big fan of texture in my food and I think that's one reason why I love this salad so much. It's also extremely easy to put together and great for picnics or potlucks. The only thing you cook is the ramen pieces. We're all familiar with those 10¢ packages of goodness. Yes, I still eat them occasionally. Oriental is my favorite and that's the one used in this salad! The block gets broken up into pieces and cooked in melted butter with the seasoning packet and sesame seeds. It's so yummy and super crunchy! Next you mix the dressing ingredients, then toss everything together. That's it!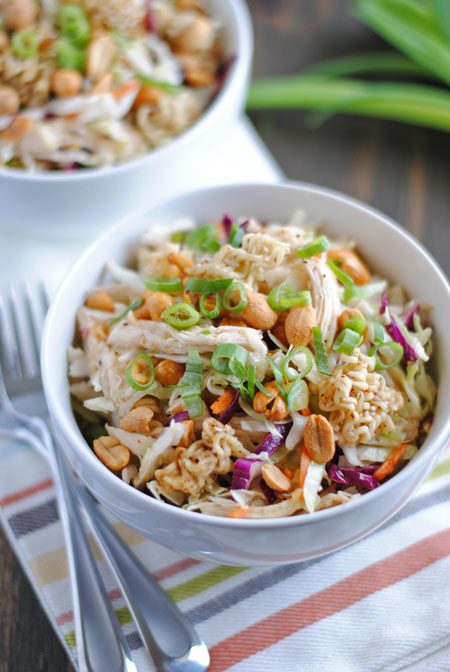 A serving is only 360 calories, which is reasonable, but it packs a whopping 22 grams of fat, so I didn't add it to my low calorie category. I also double the dressing and that makes it a bit of a splurge. Back in the day, I'd also add this angel hair slaw sauce, which made it stinkin' fabulous. I need to get my hands on a bottle of that stuff again! You could add a bit of poppyseed dressing, too. I double the dressing because it's a little too dry for my liking otherwise. This salad is best made right before you're going to serve it. The dressing will start to breakdown the coleslaw and become runny if left sitting out for too long. If you know you're not going to eat the whole thing, you can store the components separately to avoid having soggy ramen and peanuts. The dressing is ok to make and keep separately in the fridge. I put the cooked ramen in a container and then build my individual salad as I want to eat it. No soggy pieces for me in this Crunchy Ramen Chicken Salad!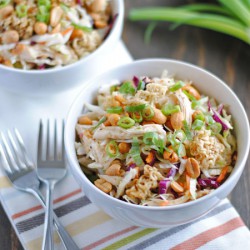 Yield: 6 servings
Prep Time: 15 min
Total Time: 22 min
Crunchy Ramen Chicken Salad
Ingredients:
3 tbsp. butter
1 package (3 oz.) Oriental-flavor ramen noodle soup mix
2 tbsp. sesame seed
1/4 cup sugar
1/4 cup white vinegar
1 tbsp. vegetable oil
1/2 tsp. pepper
2 cups cut-up cooked chicken
1/2 cup dry-roasted peanuts
4 medium green onions, sliced (1/4 cup)
1 bag (16 oz.) coleslaw mix
*Note: I double the dressing ingredients. Listed above is the original recipe.
Directions:
1. Melt butter in 10-inch skillet over medium heat. Stir in seasoning packet from noodles. Break block of noodles into bite-size pieces over skillet; stir noodles into butter mixture. Cook 2 minutes, stirring constantly; stir in sesame seed. Cook about 2 minutes longer, stirring constantly, until noodles are golden brown.
2. Mix sugar, vinegar, oil, and pepper in large bowl. Add remaining ingredients and noodle mixture; toss.
per serving: 360 calories, 22g fat, 24g carbs, 4g fiber, 20g protein