A few years ago, a friend of mine gave me a cookbook for Christmas. It was from the Junior League in Birmingham, Alabama, and I relished every page of it. Tables of Content is beautifully put together and it has a few menu ideas tucked inside. I came across one that included this Best-Ever Gourmet Meat Loaf (along with Buttermilk Ranch Mashed Potatoes and Roasted Green Beans). I wasn't too sure about serving meatloaf as part of a fancy dinner, but it had been ages since I'd had any…it turned out perfectly!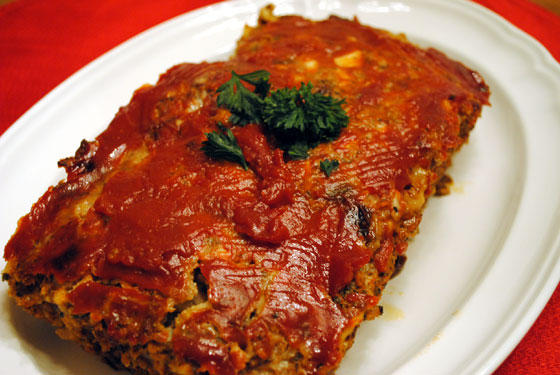 So, how's it taste?
I would serve this meatloaf at a nice, sit-down dinner anytime. It truly is gourmet and the best-ever. My mom will be so happy this post is finally live as she has been asking for the recipe since the first bite. The sun-dried tomatoes add just a touch of sweetness and the basil really makes this main dish come alive. Basil is the perfect herb in a meatloaf. I also really enjoyed the provolone. Talk about dressing up what is usually a ho-hum dish. The recipe calls for sun-dried tomatoes that are oil-packed, but I used dried ones that I let soak for a bit in warm water. I also didn't have fresh basil on hand and used dried. Just as tasty, although I'll make it with fresh the next time. This meat loaf serves a bit more than four (unless you just really like a big hunk of meat loaf). I didn't count, but I think we got at least eight decent-sized slices out of it.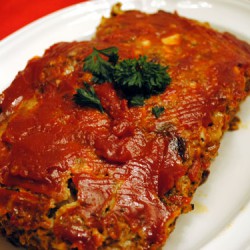 Best-Ever Gourmet Meat Loaf
Ingredients:
1 lb. ground round
1 cup soft fresh bread crumbs
3/4 cup chopped fresh basil
1/2 cup ketchup
1/2 cup oil-pack sun-dried tomatoes, chopped
1/2 cup finely chopped onion
1/2 cup shredded provolone cheese
2 eggs, beaten
2 garlic cloves, chopped
1/3 cup ketchup
Directions:
1. Preheat the oven to 350 degrees. Line a 5x9-inch loaf pan with foil.
2. Combine the ground round, bread crumbs, basil, 1/2 cup ketchup, tomatoes, onion, cheese, eggs and garlic in a bowl and mix well.
3. Shape the mixture into a loaf in the prepared loaf pan and spread with 1/3 cup ketchup. Bake for 1 hour.