The simplicity of this Citrus Shrimp & Rice is what drew me into giving it a try. Shrimp is incredibly easy and fast to cook and pairs so well with a variety of flavors. You can make it sweet, hot, savory, you name it. This recipe takes a boxed rice mix and jazzes it up with lemon, apricot, shrimp, and edamame. Full of flavor, packed with protein, and quick enough for a weeknight meal.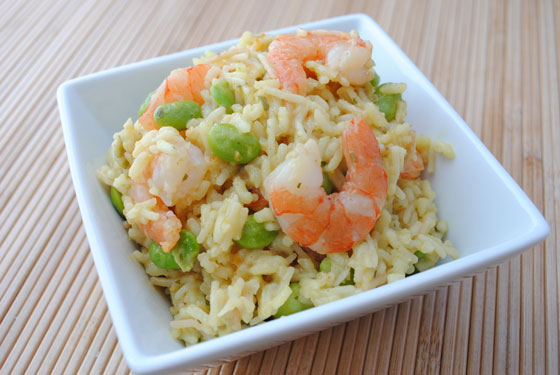 So, how's it taste?
I really enjoyed this dish. It's full of tangy lemon, sweet apricot, and the savory spices from the rice mix. I couldn't find the type of rice mix the recipe called for so I used the Fried Rice flavor from Rice-a-Roni. I plan on hunting down the Oriental flavor as I think the almonds would be a great addition, although I fear it may be a flavor they don't make anymore. I added the juice of one lemon to crank up the citrus and loved it. If you don't like tangy lemon, you may want to stick with just the peel. You could also use peach preserves or orange marmalade instead of the apricot preserves. I like how the preserves add a touch of sweetness to counter the lemon, yet it's a very subtle flavor in the finished dish. I'm not a huge fan of sugar snap peas, so I substituted edamame. The pop of pink from the shrimp and dots of green from the edamame against the pale rice made for a pretty serving. It also tastes delicious the next day for leftovers.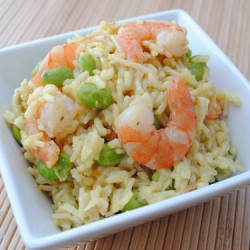 Citrus Shrimp & Rice
Ingredients:
2 tbsp. butter
1 package (6.2 oz.) rice & vermicelli mix with almonds & Oriental seasonings (or Fried Rice flavor)
2 cups water
2 tbsp. apricot preserves or orange marmalade
1 tsp. grated lemon peel
juice of one lemon
1 lb. uncooked peeled, deveined, medium shrimp with tails removed
1 cup frozen or fresh edamame (or 1 1/2 cups frozen sugar snap pea pods)
Directions:
1. In 12-inch nonstick skillet, cook butter and rice and vermicelli mix over medium heat about 2 minutes, stirring frequently, until rice and vermicelli are light golden brown.
2. Stir in water and contents of seasoning packet. Heat to boiling; reduce heat to low. Cover and cook about 15 minutes or until most of liquid is absorbed.
3. Stir in preserves, lemon peel, lemon juice, and shrimp. Cover and cook 5 to 6 minutes, stirring occasionally, until shrimp are pink and firm. Stir in edamame. Cover and cook 3 to 4 minutes or until edamame is warmed through.