Oh boy are these Orange Marmalade Muffins addicting. I made them a few weeks back as part of a surprise for my friends returning from their honeymoon. (See what I made for their wedding day!) The Pioneer Woman calls them Good Morning Muffins, but I renamed them so you know what you're about to bite into. They are full of sweet orange goodness and the topping has a bit of spice to make them unique.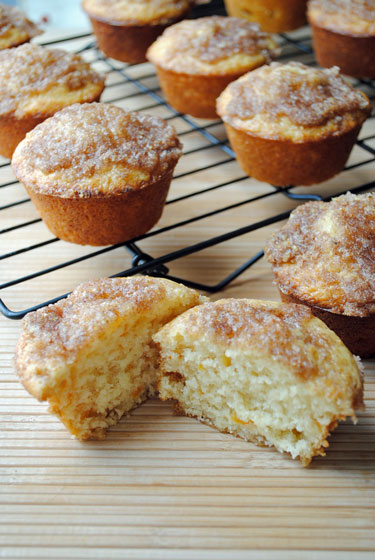 So, how's it taste?
They are so stinkin' good. They are almost like cake. I love the bits of orange peel from the marmalade and some bites had a blob of the marmalade, too. So indulgent in an innocent-looking muffin. The topping makes them stand out. It's spicy from the nutmeg and cinnamon. If nutmeg isn't your thing, or sounds odd, leave it out. These muffins don't even need a topping, but I highly suggest it for the crunch. The topping also has a salt in it, which I hated at first and thought it was out of place. The more muffins I ate, the more I didn't mind it. So I really can't decide if I like it better with or without the salt in the topping. It's optional, as well as the wheat germ. The Pioneer Woman says the wheat germ adds crunch, but it doesn't. The crunch is from the sugar. I bought a huge jar of wheat germ and it's not exactly cheap, so skip this if you don't already have it on hand.
These freeze very well. I have two gallon-sized freezer bags full of them in my freezer. I take one out, wrap it in a paper towel, and heat it in the microwave on the defrost setting for about 20-30 seconds. These muffins are best eaten warm. I think I'll keep making these so I can always have them stashed in my freezer!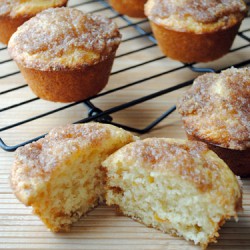 Orange Marmalade Muffins
Ingredients:
Muffins
4 cups flour
1/2 cup sugar
2 tbsp. baking powder
1/4 cup shortening
1/4 cup butter
2 cups orange marmalade
1 cup orange juice
1 tsp. vanilla
2 eggs, beaten
Topping
3/4 cups sugar
1 tsp. cinnamon
1 tsp. nutmeg
1 tbsp., plus 1 tsp.) melted butter
1/4 tsp. salt (optional)
wheat germ (optional)
Directions:
1. Preheat oven to 375 degrees. Spray muffin pans with non-stick cooking spray.
2. Sift together flour, sugar, and baking powder. Place in a mixing bowl. Use a pastry cutter to mix in shortening and butter. Mix marmalade, orange juice, vanilla, and beaten eggs in a small bowl. Pour into dry ingredients. Mix all ingredients together gently, using fewer than 10 large strokes.
3. In a small bowl, mix topping ingredients.
4. Fill muffin pans with batter. Sprinkle 1 heaping teaspoon of topping ingredients over each muffin. Sprinkle wheat germ over the top for extra crunch. (I found it doesn't add crunch so you can skip this if you want.)
5. Bake for 20 to 22 minutes until done. Remove from pan and cool on wire rack. Eat warm or at room temperature.