Making homemade caramels can be intimidating, but it's actually pretty simple. This recipe for Chocolate Chip Caramels is a great one to try if you've never made homemade caramels. The method is a bit different from the method I like to use (see Salted Caramels or Salted Whiskey Caramels). It still works great, although I think it produces a much lighter caramel, but it's a good place to start if you want to get into making your own caramels. We all know caramel and chocolate is a great pairing, so I think you're going to love the chocolate chip caramels!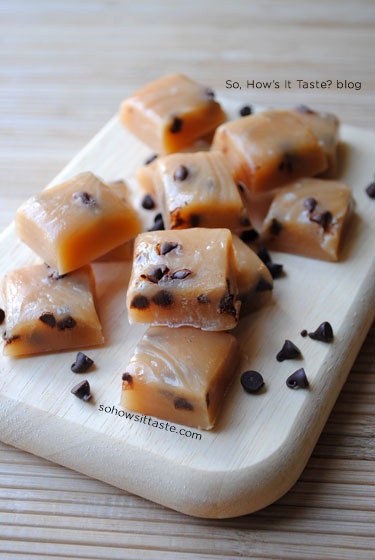 So, how's it taste?
Buttery and sweet with small bursts of chocolate that help to balance all the sugar. These were supposed to be chocolate swirl caramels, but those mini chips just would not melt, so chocolate chip caramels were born. The little chocolate chips aren't too sweet, so they counteract all that sugary sweetness from the caramel. I loved each bite of chewy caramel with hints of chocolate. I feel like these caramels are a bit too light, but my previous caramels have been a bit too dark, so go figure. This recipe is much, much easier for anyone new to making their own caramel. Instead of heating the sugar and corn syrup and waiting on the perfect color before you add the cream, everything is added at once. All you have to do is watch the thermometer. Super easy, but you'll miss out on the fun of watching the sugar boil violently when adding the cream…that's my favorite part in the other method! Either way, the end result is a gooey, buttery treat that's irresistible.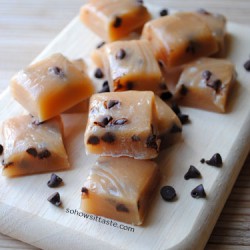 Chocolate Chip Caramels
Cooking Pleasures, December/January 2000
makes about 64 caramels
per caramel: 70 calories, 3.5g fat, 0g protein, 10.5g carbs, 0g fiber
Ingredients:
1/2 cup unsalted butter
2 cups sugar
1 1/2 cups whipping cream
1 cup light corn syrup
1/4 cup mini semi-sweet chocolate chips
Directions:
1. Line an 8-inch square pan with wax paper; spray lightly with nonstick cooking spray. Melt butter in dutch oven or a heavy, large saucepan over low heat. Add sugar, cream, and corn syrup; stir to mix. Increase heat to medium; bring to a boil, stirring frequently.
2. Insert candy thermometer into mixture and attach to side of Dutch oven. Cook, stirring frequently, until thermometer registers 230F. At this point, it is important to watch the mixture carefully. Begin stirring constantly until thermometer registers 248F.
3. Immediately pour half of the caramel mixture into pan. Sprinkle with half of the chocolate chips. Pour remaining mixture over chocolate chips; do not scrape Dutch oven. Sprinkle with remaining chocolate chips. Let stand 6 to 8 hours or until cool and set.
4. Remove caramel from pan by lifting wax paper. With large knife or pizza cutter, cut caramel into 64 pieces.