Stop the presses! I've found the most wonderful caramel dessert known to man. Let me introduce you to Chocolate Toffee Caramel Bars. As far as desserts go, this one sits pretty high on my "oh my gosh I must make this again soon" list. Take a look at that big section of soft, chewy caramel right in the middle of each bar. Oh and did I mention it also has chocolate chips, vanilla chips, and toffee? Yeah, get ready to put on your apron.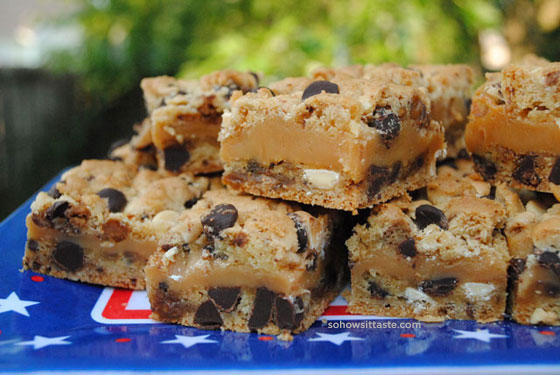 So, how's it taste?
As you can see from my fancy plate, this was part of my 4th of July spread. (And by fancy I mean thank you Dollar Store!) Boy, did I hit the nail on the head with these bars. Delicious barely scratches the surface in describing how good they were. Packed with tons of your sweet treat favorites in the crust and topping, then a ribbon of silky, smooth caramel in the middle. The crunch of the chips and toffee bar pieces in contrast to the gooey caramel was to die for. They look like you spent all day making them, but are a cinch. You do have to unwrap 32 caramels, but if you have an awesome helper like mine (thanks mom!) maybe you won't have to do that part. The caramels seemed to take forever to melt, but that's probably because I'm the most impatient person in the world. Good things come to those who wait and these are worth it! Enjoy!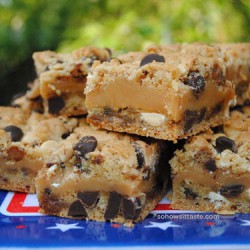 Chocolate Toffee Caramel Bars
Ingredients:
1 (18.25 oz.) package butter recipe yellow cake mix with pudding in the mix
1/3 cup vegetable oil
2 eggs
1 (12 oz.) package (2 cups) semisweet chocolate chips
1 cup white vanilla chips
3 (1.4 oz.) chocolate-covered toffee candy bars, cut into pieces
1/2 cup butter
32 vanilla caramels, unwrapped
1 (14 oz.) can sweetened condensed milk (not evaporated)
Directions:
1. Heat oven to 350°F. Grease 13x9-inch pan. In large bowl, combine cake mix, oil and eggs; blend well. Stir in chocolate chips, vanilla chips and candy bar pieces. (Mixture will be thick.) Press half of mixture in bottom of greased pan. Bake at 350°F. for 10 minutes.
2. In medium saucepan, combine butter, caramels, and condensed milk. Cook over medium-low heat until caramels are melted and mixture is smooth, stirring occasionally.
3. Remove partially baked crust from oven. Slowly pour caramel mixture evenly over crust. Crumble remaining cake mix mixture over caramel.
4. Return to oven; bake an additional 25 to 30 minutes or until top is set and edges are deep golden brown. Cool 20 minutes. Run knife around sides of pan to loosen bars. Cool 40 minutes. Refrigerate 1 hour. Cut into bars. Store in refrigerator.